Hanoi, Vietnam, June 1st, 2023 - Global leading IT services provider FPT Software recently won two categories at the 18th Annual 2023 Information Technology World Awards (IT Word Awards®). This year, FPT Software received the highest rankings in two categories: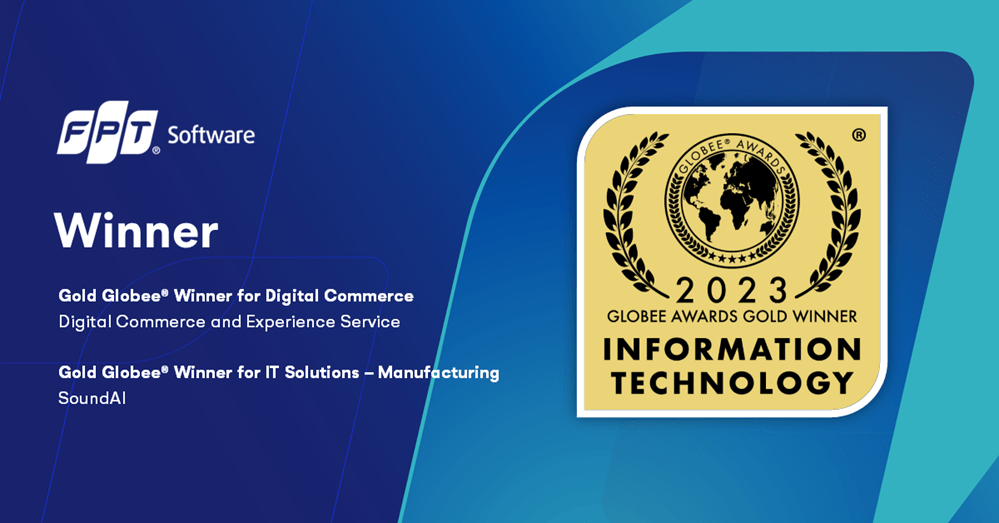 The solutions and services provider was evaluated by 600 judges from a broad spectrum of industry experts worldwide. Its submission was read with high accuracy and remarkable statistical results, showing exceptional impact on business growth and customer satisfaction. The winning pair is among the firm's comprehensive suite of digital solutions to solve complex business problems in any sector.
FPT Software's Digital Commerce and Experience service enables brands to meet the evolving customer demands in today's dynamic multi-channel commerce. The service pack helps clients to rethink and renovate their commerce delivery ecosystem, leveraging end-to-end commerce capabilities and delighting customers at all touchpoints.
SoundAI - FPT Software's flagship Artificial Intelligence and Machine Learning Operation platform - gives a novel solution within the field of pleasant inspection. It utilizes acoustic anomaly detection for predictive maintenance and product health inspection, helping global companies reduce reliance on human inspectors while increasing inspection accuracy with a successful detection rate above 95%.
Representing FPT Software's Digital Commerce and Experience service, Program Head Mr. Bach Nguyen Luu commented: "FPT Software sees a growing demand for digital commerce services, and we constantly push the boundaries in the digital realm, leveraging cutting-edge technologies to help global companies optimize operations and unlock data values. This recognition is a testament to our ongoing efforts and innovations, and it sets our bar higher in today's competitive eCommerce landscape."
According to Dr. Phong Nguyen, FPT Software Chief Artificial Intelligence Officer, SoundAI represents a prime example of how AI can revolutionize product quality inspection and propel the manufacturing sector into a promising future. "With its application across various industries such as healthcare, smart home, energy, and more, SoundAI offers a transformative approach to perceiving the world and enhancing the quality of life. In the future, we are committed to advancing SoundAI and other AI capabilities to accommodate the ever-changing tech landscape.", Phong added.
The IT World Awards® is presented by the Globee® Awards, organizers of the world's premier business awards programs and business ranking lists. The awards celebrate outstanding vendors with excellent technology advancements, aiming to raise the industry's information technology and cybersecurity standards.
"I am honored to congratulate the remarkable winners of the 2023 Globee® Awards for Information Technology. Your dedication, innovation, and impactful contributions have set new standards of excellence in the IT industry.", says San Madan, President of Globee Awards.
About FPT Software
FPT Software, a subsidiary of FPT Corporation, is a global technology and IT services provider headquartered in Vietnam, with $803 million in revenue and over 27,000 employees in 27 countries. As a pioneer in digital transformation, FPT Software delivers world-class services in Advanced Analytics, AI, Digital Platforms, Cloud, IoT, Hyperautomation, Low-code, and so on. The company has served over 1,000+ customers worldwide, 89 of which are Fortune Global 500 companies in Aerospace & Aviation, Automotive, Banking, Financial Services and Insurance, Healthcare, Logistics, Manufacturing, Utilities, and more. For more information, please visit http://fptsoftware.com/
Contact
Mai Duong (Ms.)
FPT Software
PR Manager