FPT Software, Vietnam's largest IT services provider, was featured in an award-winning research paper conducted by RMIT University for its novel approach to digital transformation. The paper was named "Best Paper Award" at the prestigious 2020 Australasian Conference on Information Systems (ACIS) last December.
In the paper "Digital Kaizen: An Approach for Conducting Large-Scale Digital Transformation Projects", FPT Software was illustrated as an example of integrating Digital Kaizen, a Japanese philosophy that focuses on making continuous improvements, into digital transformation practices.
According to the authors, FPT Digital KaizenTM philosophy is unique in a way that it emphasizes on "making a series of quick wins that build towards long-term success rather than creating a 'big-bang' disruption".
"FPT Digital KaizenTM aims to continuously tackle cross-functional issues that are aligned with strategic business goals, through implementing digital technologies that improve business processes and people engagement. These small, when successful, transformations, in turn, lead to sustainable and scalable digital transformation solutions", said chief research investigator Dr. Duy Dang-Pham.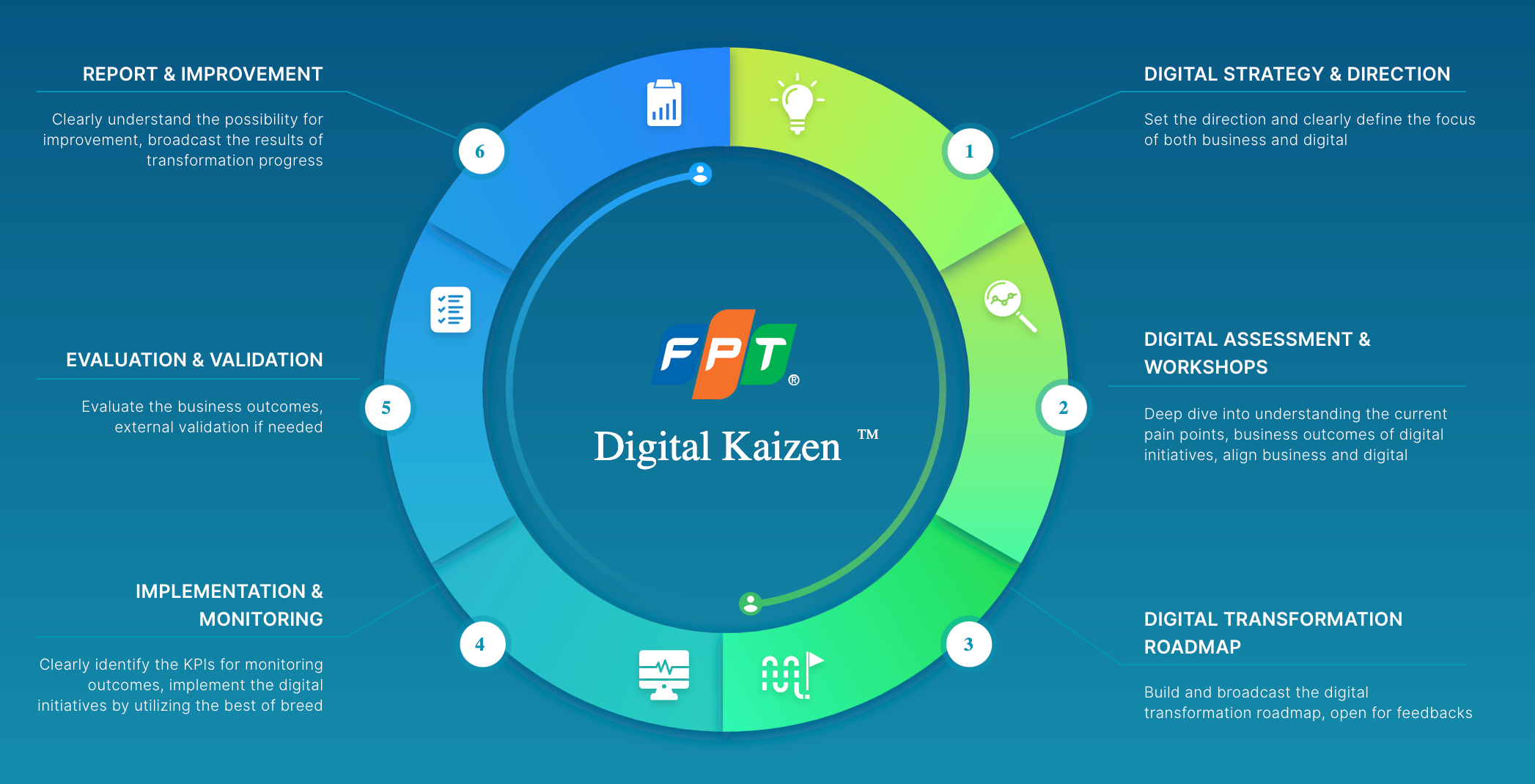 FPT Digital KaizenTM  methodology's  overview
Among companies that have engaged with large-scale digital transformation in Vietnam, FPT Software was selected to participate in RMIT University's research for three main reasons.
"First, it is an internationally recognized and established technology and digital transformation enterprise. Second, it offers the opportunity to investigate the Digital Kaizen philosophy, which we considered as a potential for generating findings that could contribute to both theory and practice. Third, the company was highly committed to the project and promised access to key executive members for data collection", Duy noted.
In 2021, the research will be finalised and published into a book chapter about Digital Kaizen, in which FPT Software researchers also co-write.
After 20 years leading Southeast Asia in IT services, FPT Software decided to pivot its focus on digital transformation services and solutions in 2019, introducing FPT Digital KaizenTM as the overarching framework to navigate customers throughout the process. The company has also transformed itself into "a huge testbed", adopting its own methodology and digital solutions, to optimize internal operations. Two of its quick wins include MyFPT, a mobile app for people management and akaLink, a digital platform for skill inventory management.
About FPT Software
FPT Software is a global technology and IT services provider headquartered in Vietnam, with more than USD 500 million in revenue and 16,000 employees in 25 countries. As a pioneer in digital transformation, the company delivers world-class services in Smart factory, Digital platforms, RPA, AI, IoT, Cloud, AR/VR, BPO, and more. It has served 700+ customers worldwide, a hundred of which are Fortune Global 500 companies in the industries of Automotive, Banking and Finance, Logistics & Transportation, Utilities, and more. For more information, please visit www.fpt-software.com