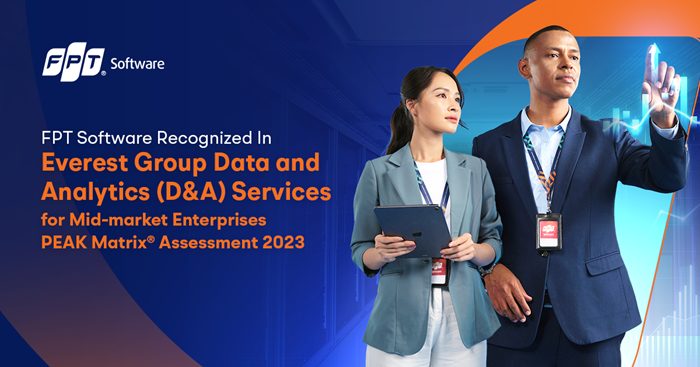 HANOI, Vietnam – Global IT services provider FPT Software has been positioned as a Major Contender in Data and Analytics (D&A) Services for Mid-market Enterprises PEAK Matrix® Assessment 2023 for the first time.
This research evaluates 29 providers offering D&A services for mid-market enterprises. Featured providers are categorized into the following three tiers: Leaders, Major Contenders, and Aspirants. These titles are assigned based on unbiased and meticulous evaluation of factors such as market impact, visibility & capability, client references, and the ongoing analysis of the D&A services market.
With its strength in advanced technologies, unique engagement framework, and the delivery of many complex data projects in various industries, including Manufacturing, BFSI, Healthcare, etc, FPT Software has emerged as a 'Major Contender' in providing D&A services to mid-market enterprises across various industries and geographies.
"We are proud to be acknowledged as a trusted partner for businesses seeking to navigate the dynamic data analytics landscape," said Frank Bignone, FPT Software's Vice President and Managing Director of Digital Transformation Division. "This hallmark also proves FPT Software's visionary approach to Data. Acknowledging that Data Fabric and Mesh will soon become the new standard for many enterprises, we are investing heavily in Data Fabric Services for enterprises in North America, Europe, Asia-Pacific, and the Gulf region "
Boasting a high-skilled talent pool of over 1,000 data experts and 2,100 Cloud/DevOps Engineers, FPT Software has successfully accompanied more than 1000 clients worldwide on their data transformation journey. By 2025, the company aims to become a globally recognized service provider in Cloud & Data.
About FPT Software
FPT Software, a subsidiary of FPT Corporation, is a global technology and IT services provider headquartered in Vietnam, with $803 million in revenue (2022) and over 27,000 employees in 28 countries.
The company champions complex business opportunities and challenges with its world-class services in Advanced Analytics, AI, Digital Platforms, Cloud, Hyperautomation, IoT, Low-code, and so on. It has partnered with over 1,000+ clients worldwide, 89 of which are Fortune Global 500 companies in Aviation, Automotive, Banking, Financial Services and Insurance, Healthcare, Logistics, Manufacturing, Utilities, and more. For more information, please visit
https://fptsoftware.com/
Media Contact
Mai Duong (Ms.)
FPT Software
PR Manager
[email protected]