HANOI, Vietnam – March 7, 2023 – FPT Japan Holdings (FPT Japan), a subsidiary of Vietnam's leading technology firm FPT Software, announced on March 2 that it has been certified as a Best Workplace for Women in Japan.
The company was recognized by Great Place to Work® Institute Japan (GPTW Japan) based on the rankings of companies with high levels of job satisfaction of women. The rankings have been conducted six times since 2017 based on three criteria: results of female employee surveys, corporate policies and programs that support female employees, and ratio of female employees in the organization.
FPT Japan Holdings showed excellence in all three criteria. One-third of the company's employees are women, with female managers account for 27% of all managers. This ratio is significantly higher than Japan's average female management representation of 17%, according to a LinkedIn's research published on February 2022.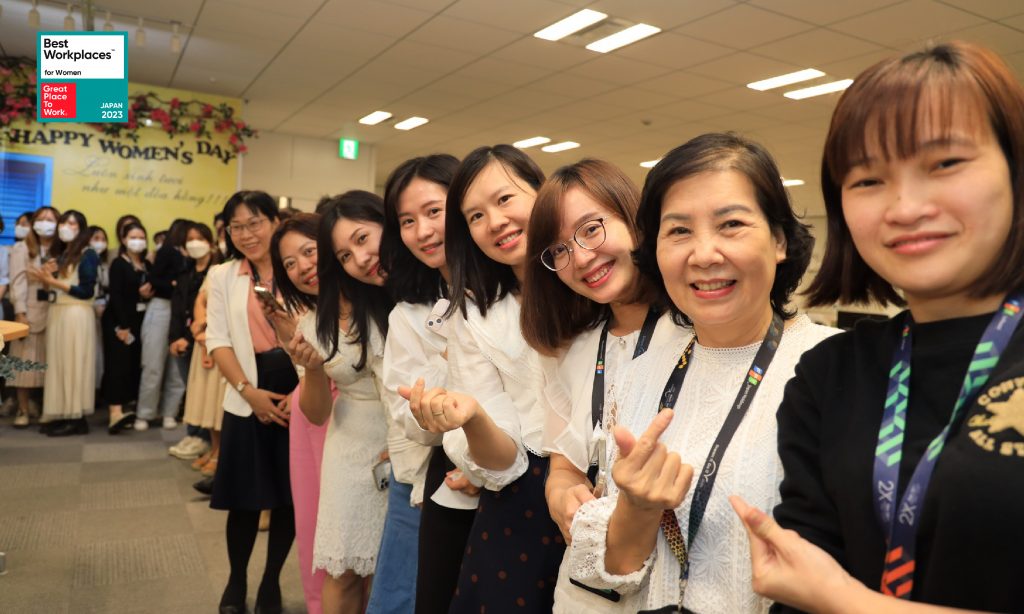 FPT Japan Holdings' female employees
These results reflect FPT Japan's efforts to maintain equality at work. "We believe talents are everywhere, regardless of gender. Having talents in the organizations, we will facilitate their development as much as we can," said FPT Japan Chief Executive Officer Do Van Khac.
The company also extend supporting policies to employees' spouses and children to assist with household responsibilities. "With 85% of employees being expats and from 16 different countries, we provide comprehensive support to our people so they can easily settle their lives anywhere. This helps our company foster a multicultural community, which will turn into our strength," Khac added. "Women not only bring happiness to their families but also help create a happier workplace at FPT Japan," he stated.
"This recognition is the testament to our efforts in empowering and inspiring female employees everywhere. As a global company, we believe in equality and strive to create a workplace that reflects this belief," said FPT Software Chairwoman Chu Thi Thanh Ha.
This recognition follows FPT Japan's recent achievement in February when GPTW Japan named the company among Top 100 Best Places to Work. FPT Japan is now the country's largest foreign technology company in terms of human resource with more than 2,200 employees. The company's goal is to reach 4,000 people and be among Japan's top 20 ICT companies in 2025.
About FPT Software
FPT Software is a global technology and IT services provider headquartered in Vietnam, with more than $632.5 million in revenue and 27,000 employees in 27 countries. As a pioneer in digital transformation, the company delivers world-class services in Smart factories, Digital platforms, RPA, AI, IoT, Cloud, AR/VR, BPO, and more. It has served 1000+ customers worldwide, a hundred of which are Fortune Global 500 companies in Automotive, Banking and Finance, Logistics & Transportation, Utilities, and more. For further information, please visit http://www.fpt-software.com
Media contact
Mai Duong (Ms.)
FPT Software
PR Manager
Email: [email protected]
Website: https://www.fpt-software.com/newsroom/