HANOI, Vietnam – FPT Software's digital solutions, including Digital Commerce and Experience Service, SoundAI, and Confidon, were named winners in Business Technology Solution categories in the 20th Annual International Business Awards® (IBAs) in first-time submission.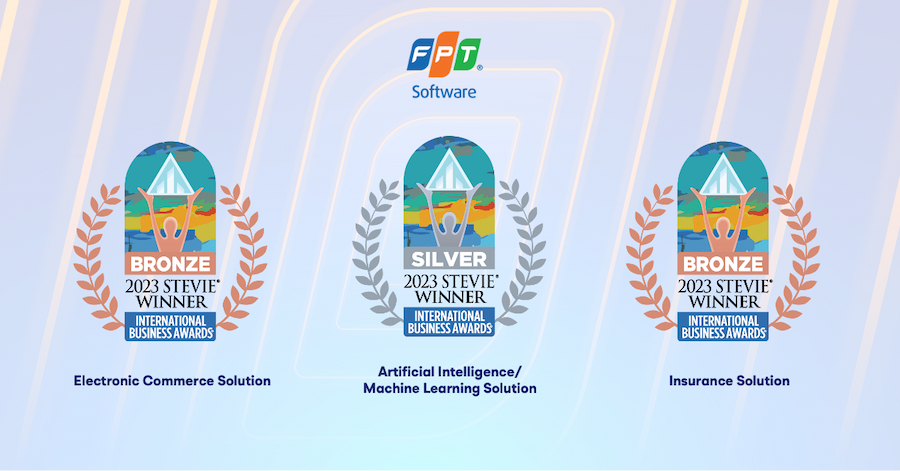 Bringing its latest digital solutions to the 2023 International Business Awards® (IBAs), FPT Software's products competed with over 3,700 nominations from various industries and were recognized as winners in three Business Technology Solution categories:
• Artificial Intelligence/Machine Learning Solution, FPT Software's SoundAI
• Electronic Commerce Solution, FPT Software's Digital Commerce and Experience
• Insurance Solution, FPT Software's Confidon
In particular, SoundAI, FPT Software's flagship Artificial Intelligence and Machine Learning Operation platform, wins Silver Stevie®. SoundAI gives a novel solution within the field of pleasant inspection by utilizing acoustic anomaly detection for predictive maintenance and product health inspection, helping global companies reduce reliance on human inspectors while increasing inspection accuracy with a successful detection rate above 95%.
Bronze Stevie® Winner named FPT Software's Digital Commerce and Experience service, which enables brands to meet the evolving customer demands in today's dynamic multi-channel commerce. The service pack helps clients to rethink and renovate their commerce delivery ecosystem, leveraging end-to-end commerce capabilities and delighting customers at all touchpoints.
Another Bronze Stevie® of FPT Software is Confidon, an AI-based insurance solution that applies intelligent automation to manual tasks in the sales, underwriting, and claim processing workflows. With Confidon support, insurance businesses can enhance their capabilities, leveraging customer-provided information while minimizing risk.
Nguyen Khai Hoan, Senior Executive Vice President and Chief Operating Officer at FPT Software, stated: "This winning trio is among our core services and solutions that assist businesses worldwide to achieve their transformational goals. We see these recognitions as solid proof of our capabilities and constant improvements. As a global IT services provider, we are committed to delivering top-notch services and cutting-edge technologies to customers of all industries."
Earlier this year, the company also scored double wins at the 2023 Asia-Pacific Stevie® Awards for Innovation and 2023 IT World Awards® with Gold awards for its Digital Commerce and Experience service and SoundAI. These winning nominations at the IBAs further demonstrate FPT Software's commitment and enviable track record in digital transformation and operation optimization across different businesses.
The International Business Awards are the world's premier business awards program. The 2023 IBAs received entries from organizations in 61 nations and territories. "Nominations to the IBAs get better every year, and this year's class of Stevie winners is the most impressive yet," said Stevie Awards President Maggie Miller. "The winners have demonstrated that their organizations have set and achieved lofty goals. We congratulate them on their recognized achievements and look forward to celebrating them on stage in Rome on 13 October."
About FPT Software:
FPT Software, a subsidiary of FPT Corporation, is a global technology and IT services provider headquartered in Vietnam, with $803 million in revenue (2022) and over 27,000 employees in 28 countries.
The company champions complex business opportunities and challenges with its world-class services in Advanced Analytics, AI, Digital Platforms, Cloud, Hyperautomation, IoT, Low-code, and so on. It has partnered with over 1,000+ clients worldwide, 89 of which are Fortune Global 500 companies in Aviation, Automotive, Banking, Financial Services and Insurance, Healthcare, Logistics, Manufacturing, Utilities, and more. For more information, please visit https://fptsoftware.com/
Contact
Mai Duong (Ms.)
FPT Software
PR Manager
[email protected]