At Vietnam – France Technological Business Forum 2018, FPT Chairman Truong Gia Binh shared about information technology (IT) sectors future in Vietnam, discussing about the cooperation of Vietnam and France in the 4.0 Industrial Revolution.
The Forum with the theme "New ambitions of Vietnam" was organized by the French Chamber of Commerce and Industry (CCIFV) in Ho Chi Minh City, aiming to increase cooperation between French and Vietnamese businesses on the solutions and partnerships to jointly achieve new ambitions in Vietnam. The forum is a part of the Prime Minister of France Republic Edouard Phillippe's visit to Vietnam.
FPT participated as a prominent IT enterprise in Vietnam, with FPT Chairman Truong Gia Binh, FPT's director Ngo Duy Khang as representatives. Mr. Binh was invited as a guest in the discussion of Digital Transformation with the theme of the 4.0 Industrial Revolution, Digital Government and Cybersecurity; the role of private firms in the growth of IT; potential of ASEAN and Asia from bilateral and multilateral free trade agreements.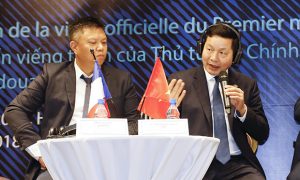 Speaking about the IT market in Vietnam, Mr. Truong Gia Binh shared the demand for IT in Vietnam has been growing in recent years. Vietnam will focus on e-government, shifting towards digital government and digital economy. Seventeen agreements in various sectors between the French and Vietnamese governments within Prime Minister of France Republic's visit were the evidence of Vietnam's IT focus in the next few years. According to Mr. Binh, multiple of Smart City projects have been actively implemented; in Hanoi, Ho Chi Minh City and Da Nang, smart production topics have been applied in various establishments. At the same time, FPT realizes the importance of Digital Transformation and data mining, which help business to gain profits and opportunities for growth and efficiency improvement.
"Vietnam is trusted by leading global corporations as a Digital Transformation partner. We are focusing on new technologies such as Artificial Intelligence (AI), Big Data, Machine Learning, and will focus more in building the digital government in the world." Mr. Binh shared.
IT industry will rapidly develop in the next three years, according to Mr. Binh. Presently, Vietnam's IT sector has grown 16% to USD 76.8 billion; software exports reached USD 3 billion with many years of continuous software export growth of 35%. Vietnam has 780,000 IT engineers, about 300 universities trained 55,000 students; and the government aims to have 1 million programmers by 2020, which would support the lacking IT human resources. Vietnam's IT development potential is extremely tremendous as the population reaches nearly 100 million people with the average age of 27 years, and with the use of technology equipment up to 4.5 hours per day.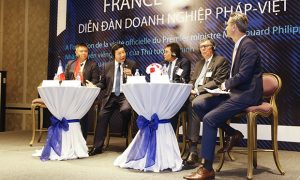 The France – Vietnamese Business Forum is part of the Prime Minister of France Republic 's visit to Vietnam on the occasion of the 45th anniversary of diplomatic relations and five years of strategic partnership between France and Vietnam. The visit aims to deepen the bilateral strategic relationship, develop economic and trade partnerships, and develop the relationship between the two nations. The Forum was organized with the participation of hundreds of Vietnamese and French enterprises to facilitate the meeting between enterprises, and to exchange Vietnamese market's news. The forum was hosted by CCIFV, co-organized by French Embassy, ​​French Consulate in Vietnam and more.
In the Forum, there are three seminars focusing on the topic of "New ambitions of Vietnam", implemented by France and Vietnam representatives; which is an opportunity to exchange ideas and understand the economic relationship between France and Vietnam. Three themes concerning New Business Environment in Vietnam, Challenges and Issues, Consumer and New Production was discussed.
Earlier this week, the Prime Minister of France Republic, along with Prime Minister of Vietnam Nguyen Xuan Phuc, witnessed the agreement of FPT Corporation and Schneider Electric to develop and implement IoT (Internet of Things) technology platform – Schneider Electric's EcoStruxure, helping to accelerate the Digital Transformation journey in the Industry 4.0. FPT is one of the first crucial strategic partners of Schneider Electric in Asia to implement and develop EcoStruxure platform, an open and interactive IoT platform, helping organizations and enterprises optimize the use and management process of energy in buildings, data centers and manufacturing plants.