FPT Software's Robotic Automation Process (RPA) platform akaBot has recently been recognized among top-notch vendors in the global RPA market with exceptionally high customer satisfaction. The evaluation is published in two latest reports from SoftwareReviews, a division of world-class IT research and consulting firm Info-Tech Research Group. Both reports are downloadable from the SoftwareReview's Robotic Process Automation report page here.
The reports, Robotic Process Automation Data Quadrant Report, September 2020 and the Robotic Process Automation Emotional Footprint Report, August 2020, were compiled based on 90 reviews from end users, who are IT and business professionals, about six RPA vendors. This year, akaBot is evaluated alongside RPA market leaders, namely UiPath, Automation Anywhere, Automate Plus, BluePrism, and Jiffy.ai. According to the President of SoftwareReviews David Piazza, the reports provided a total view of the performance of a software vendor, from core features and capabilities to the important client-vendor relationship.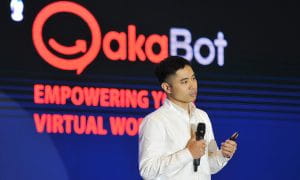 akaBot director Bui Dinh Giap introduced the platform at FPT Tech Day 2019
Notably, akaBot was highly praised in the Emotional Footprint Report, where FPT Software's platform scored +85 in Net Emotional Footprint. "Vendors who have the strongest Net Emotional Footprint in the category demonstrate that they have been successful at building strong relationships with their customers", said David. akaBot also ranked first in several key criteria of the report such as innovation driver, productivity enabler, integrity, trustworthiness, and so on. Most reviews showed that akaBot has delighted customers by continually improving its capabilities and helping customers innovate. 87% of end users are content with the performance and support from akaBot and FPT Software.
In the Data Quadrant Report, akaBot was positioned as Challenger based on positive customer reviews about product features, vendor experience and capabilities. Further analyzing about akaBot's ranking, Andrew Kum-Seun, Info-Tech's senior research analyst referred to the platform as "an interesting player in the growing and maturing RPA space". "We have yet to see how akaBot will continue to compete in this highly competitive market", he noted.
RPA market is becoming hotter than ever due to the impacts of COVID-19. More and more business leaders are looking for RPA solutions to maintaining business continuity and reducing the dependency on human workforce in the time of epidemic. Research company Gartner projected that 85% of large organizations will have adopted RPA software by the end of 2022.
Amid the booming of RPA demand, akaBot has enabled many enterprises across different domains including banking & finance, logistics, manufacturing, retail, etc. to increase productivity, eliminate errors and reduce labor costs by automating a series of mundane, error-prone tasks and processes. FPT Software's platform is making its presence known across the globe with hundreds of customers in the UK, USA, Japan, Korea, and so on. Winning the prestigious Asia-Pacific Stevie Award and International Business Award this year, akaBot is emerging as a fierce competitor in the competitive RPA market.