FPT Software successfully delivered the Manufacturing Execution System – the control system to manage and monitor work in the manufacturing process – for Carlsberg in Serbia with great results in just four weeks.
The Manufacturing Execution System related tasks were performed in two weeks and the project team project helps manage production lines and data flow at the factory, thus optimizing line performance and manufacturing process, detecting errors in the production process and maximizing production output. FPT has enhanced the company's experience in delivering projects related to digital monitoring and controlling Smart Factory system.
Following the success of Carlsberg's first Smart Factory project in Serbia, the scope of cooperation between FPT and Carlsberg in the field of Manufacturing Execution System will be rolled out China, Malaysia, Greece, and also Carlsberg's digitalization program in Vietnam.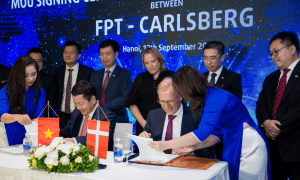 FPT & Carlsberg signed MoU in September 2018
Currently, Carlsberg is present in 25 markets globally with many of Carlsberg's factories haven't yet implemented with the Manufacturing Execution System system. Therefore, FPT Software proven technology capability through the implementation of Manufacturing Execution System is crucial for our journey accompanying Carlsberg in the brewery digitalization program. On January 15, FPT Software will continue to have a high-level meeting with Carlsberg in Copenhagen to plan a cooperation between the two sides in 2019.
Previously, FPT and Carlsberg signed a global framework contract whereupon FPT has officially become Carlsberg's technology partner, providing Information Technology as well as Digital Transformation services for the global brewer. The two sides also planned to explore additional areas in Digital Transformation including Smart Brewery, Cloud Migration to Azure, Open API platform, Data strategy and analytics with many projects related to Manufacturing Execution System (MES); AI for Planning and Connected Bar. Carlsberg has been planning to roll out MES for 14 factories across this continent in the near future.