FPT Software has been recognized as Vietnam's best place to work in information technology by employer branding agency Anphabe and market research firm Intage.
The news is released Wednesday as a result of the sixth annual survey conducted on 674 enterprises across over 20 industries. FPT Software makes it to Top 100 best workplaces in Vietnam for the second straight year, ranking 35th on this category. Meanwhile, it is for the first time named the best employer in the IT/outsourcing sector.
The Anphabe and Intage's rankings are based on six groups of criteria: salary packages, opportunity for career advancement, leaders, cultures and values, quality of work and life, and finally, company reputation.
Earlier this week, FPT Software has been placed in Vietnam's Top 5 favorite employers by the job and recruitment website CareerBuilder.vn. Its sister company FPT Telecom ranks first on the list, followed by Vinamilk and Cocacola. The results are based on online votes of nearly 18,000 employees from 25 December, 2018 to 31 January, 2019.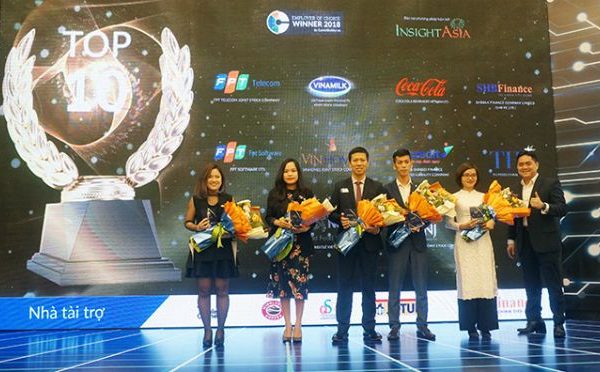 It is no secret that FPT Software deeply cares about talents. The company is known for modern and environmental-friendly office buildings and campuses across Vietnam and other countries. Employees are also entitled to mental well-being programs and endless work perks from yoga classes, sponsored training to onsite childcare. FPT's attrition rate is 10 percent while the industry average across Asia is more than 20 per cent.
Founded in 1999 with 13 people, FPT Software has more than 15,000 employees working in more than 30 countries and territories. As the Southeast Asia's leading IT service provider, the company has served over 600 customers worldwide, a hundred of which are Fortune 500 Companies. In 2018, the company posted nearly 400 million USD in revenue and a profit growth of over 30 per cent compared to 2017. Labor productivity also increased by more than 10 percent on year, equivalent to the productivity growth of the previous three years combined.