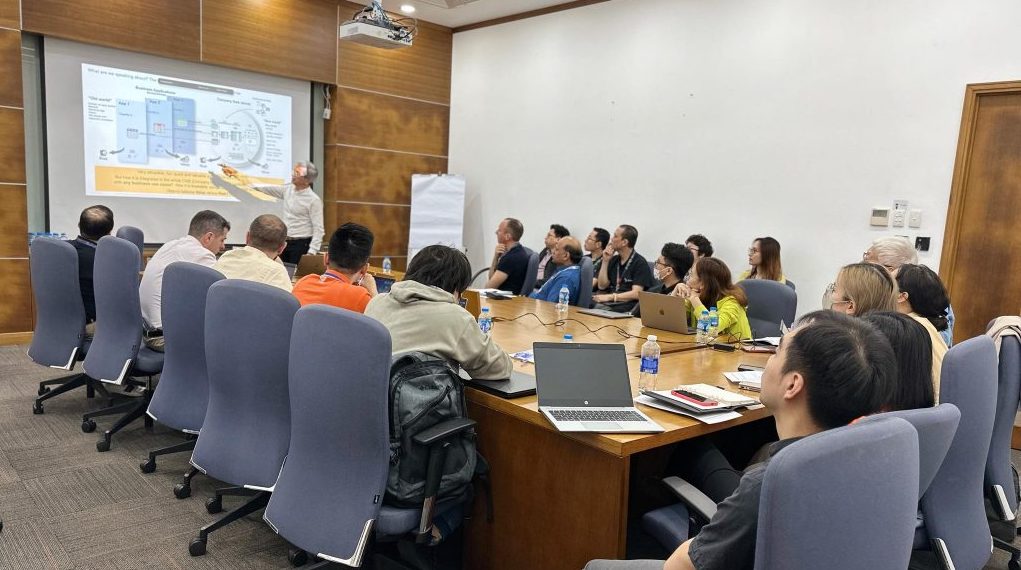 This March, FPT Software collaborated with Christophe Brosse, CEO of French consulting firm GOOD4Y and former Chief Data Governance Officer of Airbus, to organize a training course for its expert team. Through this collaboration, FPT Software aims to enhance its consulting and implementation capabilities in data governance, which is expected to become one of the company's strategic services in the coming years.
The training course were attended by FPT Software Chief Digital Technology Officer Dao Duy Cuong, nearly 20 members from FPT Software's Data Program and the core team responsible for implementing data governance for FPT Corporation. Led by Christophe Brosse, the course covered from general to advanced topics on data governance, provided methodology and tool to assess data governance status in business. Christophe and the participants also looked into the difficulties encountered in data governance implementation, especially the complexity in big companies with multiple subsidiaries, like FPT Corporation.
This initiative is expected to signal the start of a partnership between FPT Software and GOOD4Y. By collaborating with a Europe-based consulting firm led by an eminent expert who has worked with Airbus, Deloitte and other world-renowned companies, FPT Software aims to enhance its data governance capabilities and get ready for more business opportunities in the region. This also reflects FPT Software's commitment to continuously enhancing its capabilities to provide world-class digital transformation services to customers worldwide.
Becoming data-driven gives organizations strong competitive advantages in today's fast-changing business landscape. According to a report by Gartner, 55 percent of surveyed organizations believes that the lack of a standardized approach to governance is the biggest barrier to achieving data governance objectives. Businesses need to identify the right approach to data governance to meet their requirements and deliver desired business values.