As the COVID-19 pandemic recently reemerged in Vietnam, FPT Software has extended its remote working plan and even "prepared for a long-term battle", according to Chief Digital and Technology Officer Dao Duy Cuong. Earlier this week, he sat down with our Public Relations team to share some of the challenges in handling COVID-19, lessons learned, as well as a new set of actions as the company sends more employees home to work.
FPT Software has implemented work-from-home plan for five-six months now due to the impact of COVID-19 pandemic. Has the company faced any challenges in this new experience?
In the previous wave of COVID-19 in March, FPT Software had certain advantages. Earlier this year, we had planned to deploy Virtual Desktop Infrastructure (VDI) with a three-year roadmap, making it very convenient for us to activate the work-from-home plan.
However, there were some unprecedented challenges. Firstly, the demand for virtual desktops surged from a few hundred to tens of thousands as more and more employees worked remotely. Server capacity had to be expanded, accordingly, and so did the bandwidth capacity. We also needed to provide PCs/laptops to remote workers, but unfortunately did not have enough stock.
Eventually, we managed to overcome these challenges and were highly appreciated by our customers. No complaint about productivity or work performance!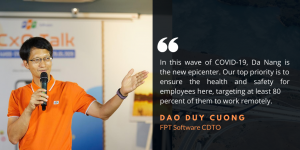 COVID-19 has returned with increasing intensity. How has FPT Software learnt from the past experiences?
After the re-emergence was confirmed, FPT Software immediately issued a series of directives, of which important points were keeping a safe distance of two metres in the workplace and adjusting our remote work plan. This time, we targeted 70 percent of Back-office and 50 percent of Delivery staff to work from home.
The IT and ISM systems were also updated. First and foremost, we prioritize servers for virtual desktop infrastructure (VDI). Learning from the previous wave, we bought more servers and optimized the internal system to make room for virtual desktops. We set aside a budget to rent servers in case of need.
Secondly, we optimize and constantly monitor bandwidth to ensure smooth internet connectivity for remote workers. Thirdly, we prepare 2,000 PCs/laptops for those who do not have a computer at home. We also set up a quick-response IT team to support remote workers while calling for infrastructure support from strategic units. Last but not least, it was important to strengthen the ISMS (Information Security Management System), from internal communications to compulsory training and tests for those about to work from home.
In this wave of COVID-19, Da Nang is the new epicentre. Our top priority is to ensure the health and safety for employees here, targeting at least 80 percent of them to work remotely. IT resources from other branches are also mobilized to support to Da Nang teams, even during the weekend.

Health experts have warned that COVID-19 could last for one – two years or more. Has the company prepared for this situation?
FPT Software already prepared for a long-term battle. In July, we issued the IT Blueprint, targeting to increase VDI usage to 50 percent by 2022 and promote the use of collaboration tools like Microsoft Teams, Facebook Workplace, and so on.
This IT Blueprint is part of our three-year Digital Transformation roadmap, which will be reviewed annually. The idea is to increase the resilience of our organization. Besides, we are also working on internal tools to increase work productivity of remote working staff.
Many tech giants in the world such as Facebook, Google, and Twitter have decided to let employees work from home until at least 2021 or even permanently. What do you think of this trend? Is it feasible for FPT Software?
It is indeed an interesting trend. As a multinational company, FPT Software is no strange to remote working. However, certain project work requires frequent in-person communications and collaborations on agile whiteboards or glassboards. Also, FPT Software's culture centers around employee engagement, team cohesion, and mentor-mentee co-working model. Therefore, our teams need to be physically close to each other most of the time for continuous productivity improvement. For this reason, we maintain a flexible work-from-home policy for now.
Thank you so much!