Representatives of FPT and SBI signed the three-million dollar deal in Tokyo on 17 April, 2019
TOKYO/HANOI, April 18th, 2019 – Tokyo-based SBI Holdings Inc. ("SBI") yesterday signed a Memorandum of Understanding (MoU) with FPT Corporation ("FPT") to invest $3 million dollars in Utop, a FPT blockchain startup that bridges loyalty point programs among merchants. Utop makes it easy and convenient for users to garner and redeem loyalty points at retailers within the same network, thereby enabling small businesses to grow faster.
Utop was developed based on FPT's enterprise blockchain platform akaChainTM, which has been implemented in many countries and across various sectors from finance, insurance, retail, to supply chain. Through partnership with Utop, small businesses could link their reward programs with each other to reduce costs and keep data secure thanks to the multi-layered architecture of akaChainTM platform. Utop also ensures high liquidity for end users by allowing them to redeem points at any merchants within the network. It helps improve discount and reward programs and, at the same time, enhances customer experiences.
Mr. Yoshitaka Kitao, SBI's President and Chief Executive Officer said "SBI and FPT have cooperated effectively in many past years by leveraging the strengths of both sides. A majority of SBI's companies in Vietnam are either invested or jointly operated by FPT through its subsidiaries such as FPT Securities, Sendo, or TP Bank. Based on FPT's enterprise blockchain platform akaChainTM, its technology capabilities, as well as strong network of customers, I am completely positive that this is the best time to launch Utop. I hope it has lots of potential to grow".
FPT Chairman, Dr. Truong Gia Binh, noted: "The development of industry 4.0 technologies has created break-through opportunities for businesses, mushrooming so many innovative business models. We call it digital transformation. FPT has defined digital transformation as our key strategy, accompanying our customers worldwide in their digital transformation journey, helping improve their business processes and leverage their position. Utop will play its part in growing thousands of Vietnamese businesses, bringing convenience and interesting shopping experiences for millions of Vietnamese consumers, thereby contributing to the development of Vietnam's digital economy".
According to Mr. Pham Nguyen Vu, co-founder and director of Utop, "this platform has been running a pilot with FPT's minimum viable ecosystem as well as various sectors such as retail, insurance, and finance since last December. The funding from FPT and SBI would be a great kick start to help Utop solidify its foundation and take bolder steps in the future".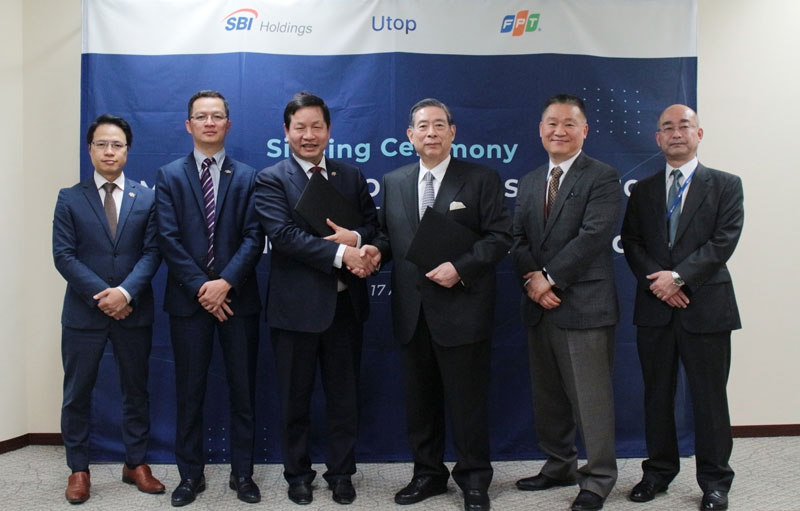 The deal helps transform customer loyalty programs through FPT's blockchain platform
About FPT Corporation
FPT is the global leading technology and IT services provider headquartered in Vietnam with nearly US$2 billion in revenue and 33,000 employees. As a pioneer in digital transformation, FPT delivers world-class services in Smart factory, Digital platforms, RPA, AI, IoT, Enterprise Mobility, Cloud, AR/VR, Embedded Systems, Managed services, Testing, Platform modernization, Business Applications, Application Services, BPO, and more. FPT has served over 600 customers worldwide, a hundred of which are Fortune Global 500 companies in the industries of Aerospace & Aviation, Automotive, Banking and Finance, Logistics & Transportation, Utilities and more. For more information, please visit www.fpt-software.com.
About SBI Holdings Inc.
The SBI Group is Japan's leading financial services company which was established in 1999 as a pioneer of Internet-based financial services, and currently has formed the world's first Internet-based financial conglomerate, providing financial services in a broad range of fields including securities, banking and insurance. The SBI Group also globally manages a number of private equity and venture capital funds. As a pioneer in the Fintech industry and after years of actively investing in start-up companies in the sectors such as IT, mobile, bio-life science and Fintech, the SBI Group has now become a global leader in making active investments in the area of Fintech, artificial intelligence and Blockchain. With an aim to expand the Group's footprint in Southeast Asia, SBI Group has invested in and added value to a number of technology and financial services companies in the region as well.
For media inquiries, please contact: Hue LE (Ms.) – [email protected] – +846686 7745