FPT Software and Factom, the Austin-based solution provider and blockchain integrator for enterprises have recently cooperated on developing Blockchain Technology Platform through Factom Harmony.
In the scope of the partnership, FPT and Factom will work together to provide a Blockchain Technology Platform through Factom Harmony which creates an immutable audit record of activities, data, events and decisions. FPT will also cooperate with Factom to train FPT staff in Factom technology to create a quick path to integrate the benefits of Blockchain technology into existing client systems.
Designed to preserve data, files and digital records so as to make them verifiable and independently auditable, the Blockchain Platform is expected to deliver insightful and innovative solutions to customers business needs. It will create space for innovation through workshops and Proof of Concept, enabling customers to approach cutting-edge Blockchain solutions. With Factom Harmony Blockchain, customers' operational efficiency and effectiveness will be improved in no time.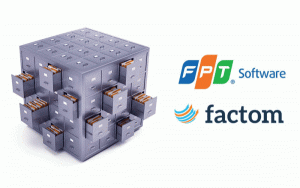 The Factom Harmony Blockchain enables FPT to deliver a superior experience by novel solutions. Through the strategic global partnership with Factom, FPT expects to leverage their global delivery model integration expertise as well as to enhance their Digital and Product Engineering services and Blockchain capabilities.
"The partnership between Factom and FPT is a valuable opportunity to showcase the practical use and applications for Blockchain technology on an Enterprise scale," said Paul Snow, CEO of Factom. "FPT and Factom share a vision of the future when Blockchain-as-a-Service is available to all companies looking to preserve, ensure and validate their data or decisions."
Factom, Inc. specializes in building scalable blockchain technology to handle data and volume for large enterprises. With clients such as the U.S. Department of Homeland Security and the Bill and Melinda Gates Foundation, Factom is the recognized leader in providing blockchain solutions in order to preserve, ensure and validate digital assets.