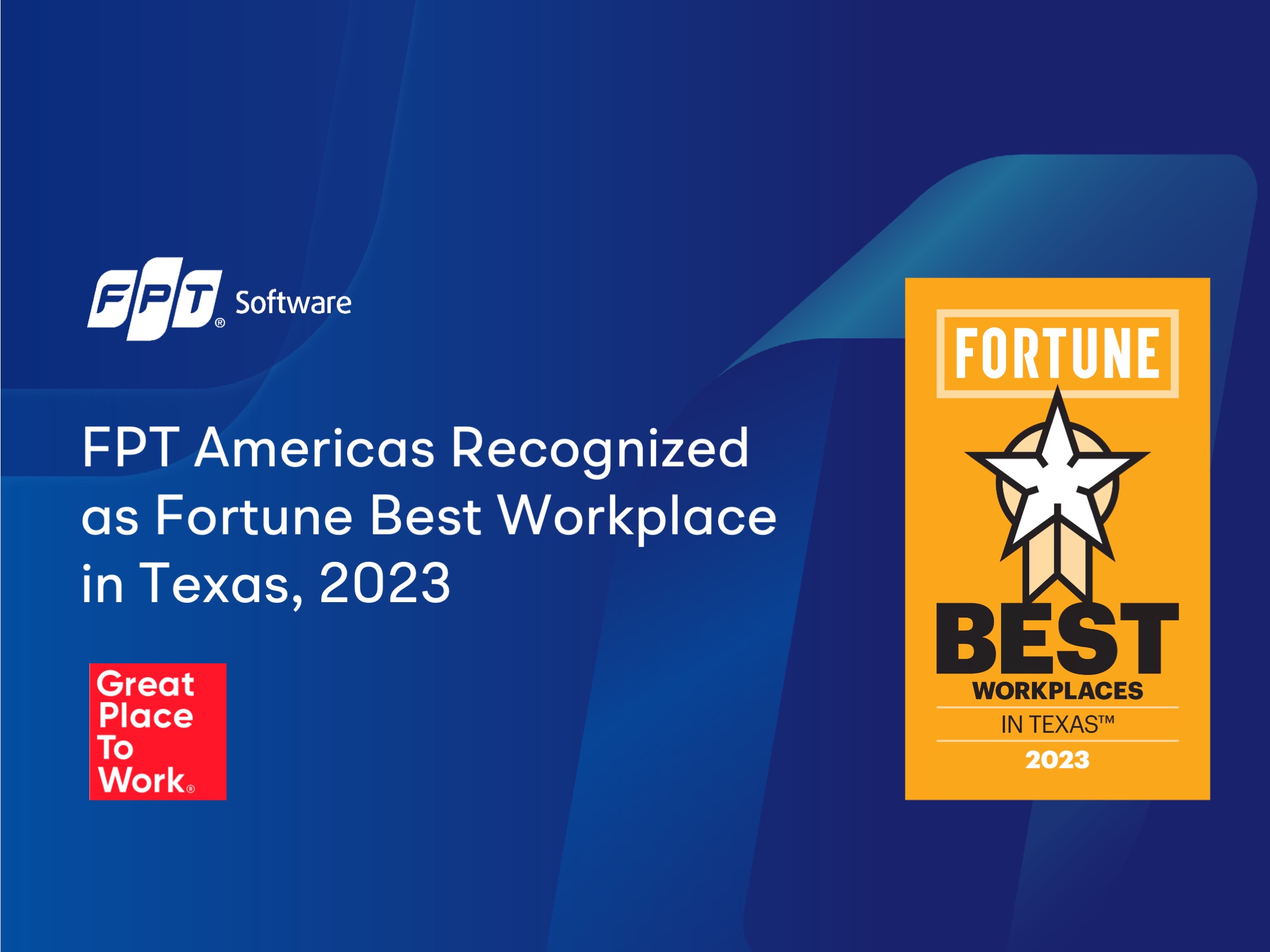 FPT Americas, FPT Software's subsidiary in the USA, was recognized by Great Place To Work® and Fortune Media for 2023 as one of the 100 Best Workplaces in Texas, USA. The results were based on direct surveys where its employees share feedback and experience at work.
According to the survey results, FPT Americas was rated highest with over 90% in five aspects: flexible working policies that promote work-life balance; trust and empowerment of the management team; friendly and open culture.
Specifically, 93% of employees recognized the company as providing a positive working mechanism, creating conditions for appropriate breaks for employees to regenerate energy and creativity. 92% of employees appreciate the leadership that trust and empower them to maximize their ability at work. Other criteria, such as friendliness to new hires, equality for employees at all levels, and availability of resources and equipment, were also highly appreciated with over 90%.
"This is the recognition for our efforts in building a happy working environment for employees through diverse policies, programs, and experiential activities. With the inherent development dynamics of people and corporate values, FPT Americas will continue to nurture a positive culture of dynamism and creativity, thereby laying the foundation for new achievements in the US as well as the global market," said FPT Americas CEO Dang Tran Phuong
After 15 years of presence in the US market, FPT Americas now has 12 offices across nine states and three offices in Costa Rica, Mexico, and Colombia. With nearly 500 employees, of whom 50% are local, FPT Americas focuses on providing the most advanced technologies to customers in 30 states of the United States.
FPT Americas and FPT Software have been improving the workplace experiences for its employees in various aspects. The company aims to build a campus and residential area in the U.S to provide its employees with modern living and working places in the world's largest economy. FPT Software invests tens of millions of dollars each year so that its staff can access training courses and earn international certificates from Udacity, Udemy, the British Council, among others.
As part of its business strategy in the Americas, FPT Software looks to expand the presence and increase its workforce to 1,000 people in Latin America in the next two years, while improving the capabilities to provide IT and digital transformation services to global customers.
In early 2023, FPT Software acquired the IT Services Division of Intertec International. Previously, in 2018, FPT also acquired 90% of the shares of Intellinet, a company specializing in consulting the fastest-growing digital transformation roadmap in the US as evaluated by Consulting Magazine in 2017.