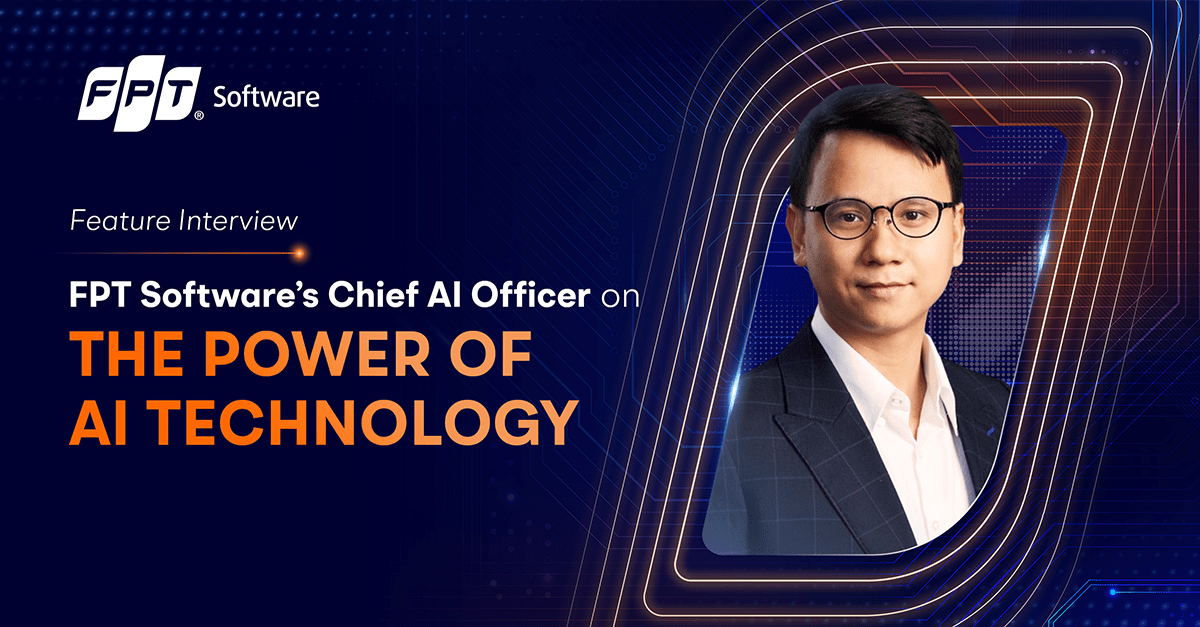 Recognising the immense potential of Artificial Intelligence (AI), FPT Software, a global technology and IT services provider who delivers AI solutions that aid business leaders in several sectors, has just extended its strategic partnership with Montreal-based research institute Mila.

In this interview, Nguyen Xuan Phong - FPT Software's Chief AI Officer (CAIO) shared valuable insights about FPT's strategic viewpoints and objectives in leveraging AI technology. He also shed light on FPT's AI solution "I2" and how it helps businesses automate inspection processes, enhance quality control measures, and minimise equipment downtime.

Congratulations FPT Software on the partnership expansion with Mila. Can you share more details on the mission of the renewal partnership?

As a global IT company, we feel proud when extending our partnership with a reputable AI research institute in the world. As Mila's first partner in Southeast Asia, over the last three years,FPT and Mila have collaborated on multiple research projects on Causal Inference, System 2, Large Language Models in the use case of Software Development, AI4Code, and more.
The partnership expansion also enables FPT Software to extend opportunities for Vietnamese engineers to access the world's latest breakthroughs and inventions as well as use their knowledge, talent, and creativity to contribute to the growth of Vietnam as a world-class AI hub.

Both sides will continue to join hands in solving complex problems and pioneer an AI ecosystem that fosters sustainable growth, human development, and social progress.

We would love to hear more about FPT Software's approach to AI. Can you share some insights?

FPT has built a complete and innovative ecosystem for AI, focusing on three key areas: research and development (R&D); AI services for seamless integration into business operations; and investments in AI products and solutions.

Our primary focus in AI development is on efficiency and enhancing the customer experience. As we navigate the digital transformation era, AI and Machine Learning take centre stage. As such, our AI development strategy aims to empower organisations to secure their future, digitise their operations, and optimise their business costs.

How can AI be applied in the manufacturing industry and what are the benefits?

AI offers the power to reduce unnecessary material and energy consumption in almost any industrial process. Many manufacturing companies are actively starting to invest in smart machines and AI to save costs, improve efficiency and increase business profits. AI applications in the manufacturing industry include quality control of products and processes, predictive maintenance of production lines and machines, and evaluation of workers' performance.

The application of AI in manufacturing processes offers several advantages. First, AI can assist human decision-making, leading to improved product performance and quality. This enhances production efficiency, optimises processes, and reduces costs and waste.

Second, AI enables businesses to predict future production conditions, minimise machine downtime, and optimise production lines. This results in accelerated production processes, reduced delivery times, and increased reliability in meeting customer needs.

AI has the capability to learn and enhance its understanding by inheriting knowledge from skilled workers and industry experts. This enriches AI's expertise in manufacturing operations, enabling it to handle complex situations and provide optimal solutions. By leveraging AI, businesses can achieve higher levels of precision in quality control and production line tasks, while simultaneously optimising processes and minimising waste.

What is FPT's in-house AI targets?

We are building a community that shares our passion for advancing AI and machine learning across all strategic areas. To achieve this, we have formed a team called AI4Code. This team comprises scientists, engineers, and experienced professionals who possess extensive international expertise in AI research.

They collaborate to enhance knowledge and exchange ideas, with a particular focus on the latest advancements in AI, including Large Language Models (LLM), to improve programming tasks. For example, LLM automates the process of generating documentation and comments for code and facilitates the translation of comments in source code across 11 different languages. This is just the beginning of our research and development aimed at boosting productivity for developers.

With a workforce of 12,000 developers at FPT, reducing the time spent on these programming tasks not only optimises costs, but also introduces a more efficient working approach throughout the organisation.

What AI solutions does FPT Software provide, and what benefits does it bring to businesses?

Intelligent Inspection, also known as I2 is a comprehensive AI solution powered by FPT Software that combines Vision - Sound - Sense modules that help automate the quality control and predictive maintenance process in manufacturing. It integrates vision, audio, and Internet of Things (IoT) modules to automate inspection processes, enhance quality control measures, and minimise equipment downtime.

I2 offers notable advantages to businesses, allowing them to improve product quality and decrease production costs, which in turn strengthens their brand reputation with partners and customers. These advantages encompass the ability to be readily deployed without the requirement for feasibility testing, a high processing speed, and effortless scalability across various products and industries.

The I2 can be deployed quickly, as the modelling and data processing platforms are already built and ready for operation. The typical implementation process includes assessing the situation, data collection, and creating an AI model for deployment. This process usually takes 2 weeks to 1 month. Additionally, I2 can be customised according to customer requirements, such as the dashboard displaying error reports, error types, and error causes, enabling optimised decision-making.