FPT Software's parent company, FPT, recently announced its financial results and ambitious goals last week, focusing on digital transformation services and emerging technologies. On this occasion, we sat down with the company's Chief Delivery Officer, Do Van Khac, to discuss his vision and strategy to realise these goals.
Since shifting its strategic focus on digital transformation in 2019, FPT Software has set to become a global end-to-end digital transformation services provider. What is the Delivery unit's vision to help achieve this goal?
FPT Software aims high in digital transformation. Not only do we transform ourselves, but also global businesses and governments, in various aspects: operations, technology, and people. With this vision, the Delivery unit needs to work hard to introduce our digital products and solutions to the market and constantly update them.
We also focus on digital transformation programs that are closely linked to SAP HANA. While worldwide companies have used SAP before, we see that many are now transiting to its new database called SAP HANA. The change in their core database entails a series of changes in applications. And we are preparing to assist businesses with these changes by investing in human resources and new technologies.
The Delivery unit has set up Centres of Excellence (CoE) in Japan and Europe, which are the two markets with huge SAP potential. Besides, we also see opportunities in other platforms such as Salesforce, ServiceNow, and OutSystems. We have signed partnerships with these companies to provide the Delivery team with license and IT infrastructure – giving them what they need to help our customers roll out their digital transformation initiatives, from consultation to deployment and maintenance.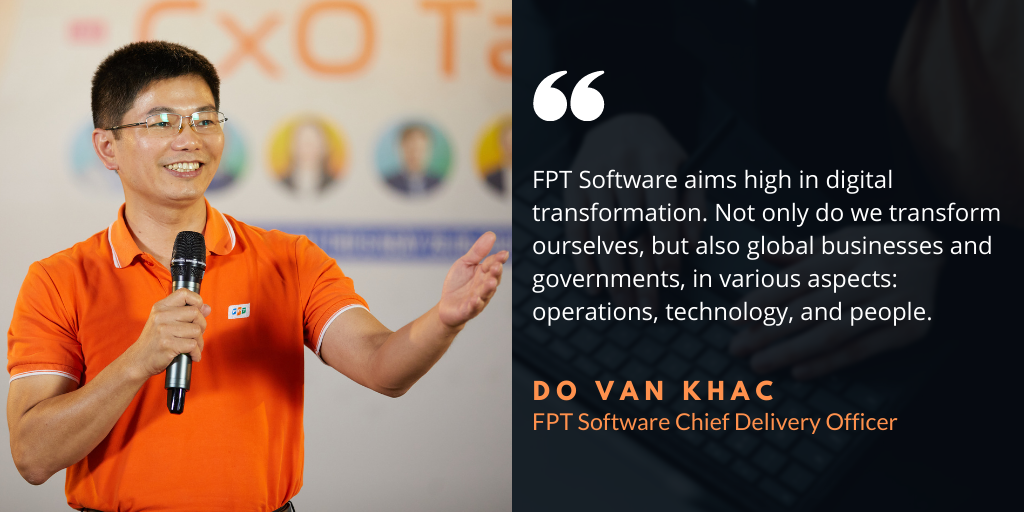 Please tell us more about your plan with these CoEs. Why is it a focus, and what is your specific plan?
The Centre of Excellence (CoE) is a critical program this year. FPT Software sees rising demand for digital transformation consulting, and especially SAP consulting. We plan to recruit those with experience working at the front line with customers and expertise in world-class delivery. This program focuses on building a CoE network with good knowledge of SAP, Salesforce, ServiceNow, OutSystems' Low-code as well next-gen techs like the Internet of Things (IoT), Artificial Intelligence (AI), and Robotic Process Automation (RPA).
We already have CoEs in all of our critical markets. Earlier this March, former Airbus VP has recently joined us as Head of Digital Transformation. In Japan, we also welcomed four of Accenture's finest managed services experts and five leading SAP specialists to our team. In India, we have and will be recruiting more tech experts who have experience working on large-scale projects for various industry giants. For the European market, we have established a dedicated team in Slovakia. We are also looking to recruit more CoEs here. The same goes for the North American market. Having a network of CoE across the globe allows us to work closely with our customers and better understand them in their local language.
Besides onboarding new CoEs, we also kick off lots of internal training sessions for our employees. These sessions are led by the company's senior management, aiming to equip existing CoEs with updated technical knowledge and business skills.
Looking forward to the next three years, what are the challenges the Delivery unit might face? And how do you plan to overcome them?
While digital transformation is no longer a foreign concept, its application in most businesses or governments is relatively new. Plus, it can be really different for a specific industry or even a company. As the business gets more complex, they often find themselves working in silos. Therefore, we need to dig deep into our clients' diverse critical operation tasks and pain points to map out an action plan for the Delivery team. The CoE program is the answer to this. Our CoEs have domain knowledge and delivery expertise to bridge the communication gap between business and technology.
Another challenge we might face is the increased IT workforce demand. To cope with this, we have formed nearshore centres across the globe to reach customers and support them anytime. Recently, we launched development centres in Hyderabad, Manila, Costa Rica, Okinawa and Hokkaido. We plan to establish more of them in North America and the Asia Pacific, and welcome technology professionals with good business mindset and technical expertise to our team.
We see Vietnam as a promising IT workforce market. We have an AI Centre in Vietnam's south-central city of Quy Nhon, providing AI training to the community. Besides, FPT Software has training programs on Blockchain and RPA for the IT students here, setting to build a talent pool with readiness to take on digital transformation tasks.
We are doing everything we can in all aspects of management, technology, and human resources to be well-prepared for any challenges that we might encounter.
Thank you for your time!