Across industries, AI is helping to amplify human ingenuity with innovative solutions that elevate people's lives, grow business value and address society's challenges. As the result, when enterprises increasingly opt for digital transformation and especially with artificial intelligence AI, the focus has shifted from 'what' to 'how'.
Joining Microsoft's AI conference this Friday, FPT brings in our stories of breakthroughs that are transforming the world. Deputy Director of FPT Software Hanoi, Mr. Tran Van Dung, will showcase our AI solutions as well as cross-industry intelligent technologies, from content to shopping personalisation.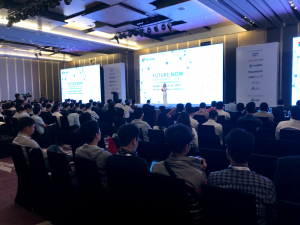 Microsoft's "FUTURE NOW" conference series is all about Artificial Intelligence, cross-industry intelligent technologies and the most innovative solutions that simplify everyday life, increase business productivity, address societal challenges and simply change the world as we know it. The event aims to explore how AI can be leveraged to address the rapidly evolving needs of customers, employees, vendors and communities.
The one-day event will attract more than 1,400 business leaders from across industries, and feature dynamic keynotes, breakouts, panel discussions, and success stories from partners as well as customers. Join us to know how FPT Software can help you achieve real business value with AI, and accelerate your digital transformation journey.  Details about the event can be found here.