IT service provider FPT Software Europe and materials manufacturer Covestro entered into long-term partnership for transformation project.
Essen, Germany – FPT Software Europe, a subsidiary of FPT Software – leading technology and IT service provider headquartered in Vietnam, has recently announced its strategic partnership with Covestro AG (Covestro). As a leading global manufacturer of polymer materials, Covestro is included in DAX stock market index among major German companies trading on the Frankfurt Stock Exchange.
Entering a multi-year agreement with Covestro, FPT Software Europe is leveraging its in-depth experience, comprehensive services and best-shore model to support the DAX-listed group in the migration of 290 applications to the Amazon Web Services (AWS) cloud platform, thereby accelerating its digital transformation journey.
Starting signal for the next generation of IT infrastructure
Within the next few years, FPT Software Europe will accompany Covestro's entire transformation process. Starting with the assessment of customer requirements, the cloud experts analyze the chemical giant's legacy systems; design and implement solutions adapted to the AWS infrastructure. FPT Software Europe's core tasks in the migration process include refactoring legacy applications to preserve their functionality in the new ecosystem while leveraging the full potential of the new platform for the customer. By moving to AWS, Covestro AG is setting itself the goal of creating greater security for productive systems and business-critical workloads. Furthermore, by cloud migration, the company achieves additional benefits such as on-demand scalability of resources, increased productivity, and reduced capital and operating costs. With the move to the cloud, Covestro is laying the foundation for further digital transformation initiatives.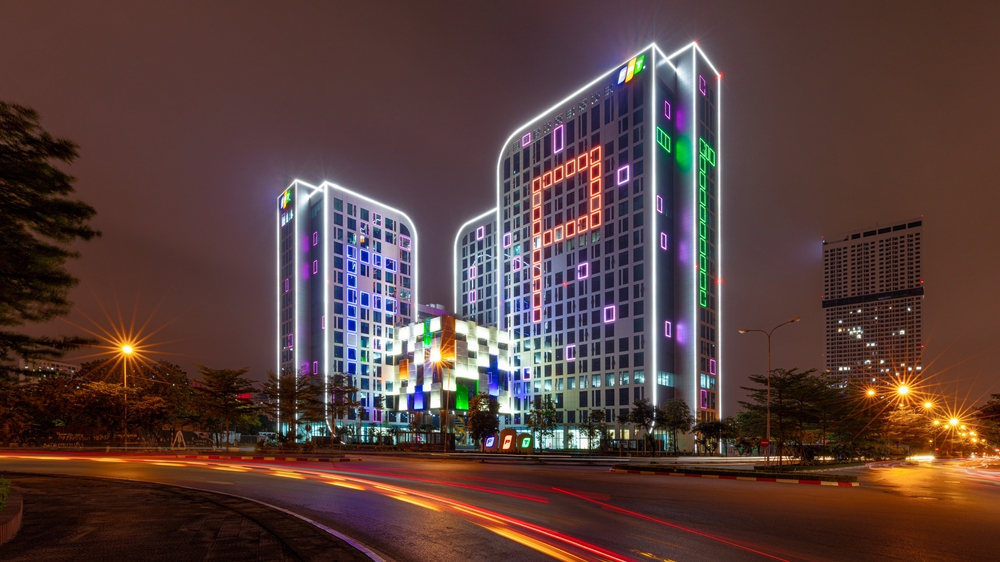 FPT Tower – FPT Corporation's head quarter in Hanoi, Vietnam
DAX company benefits from cloud migration expertise
FPT Software leverages its best-shore model, which is a mix of off shore, nearshore and onsite delivery to enable fast and cost-efficient processes to serve its customers like Covestro. As an AWS Advanced Partner with 600 highly qualified, certified AWS experts and around 20,000 highly trained IT specialists, FPT Software is able to implement the project in the shortest possible time and with the highest quality.
"As part of our promise to help Covestro accelerate its cloud migration, we have rapidly assembled project teams of cloud experts who work closely with the group's contacts on a day-to-day basis," said Le Hai, CEO of FPT Software Europe. "With the combined expertise of 600 certified AWS and 300 certified Microsoft experts, as well as thousands of other developers, FPT Software Europe is always ready to help European enterprises drive large-scale cloud projects and lay a solid foundation for broader digital transformation initiatives."
Through its partnership with FPT Software Europe, Covestro benefits from the comprehensive expertise of the Vietnamese IT service provider, which has already successfully implemented extensive cloud migration and digital transformation projects for major corporations like Schaeffler, RWE, Innogy and E.On.
FPT Software Europe and Covestro are discussing about further future joint projects in other areas such as managed services, cloud services with advanced application development and SAP implementation services.
About FPT Software Europe
FPT Software Europe, headquartered in Essen, Germany, is part of global technology and IT services provider FPT Software with 25,500 employees and revenue of more than $632.5 million. A pioneer in digital transformation, the company offers world-class services in Smart factory, Digital platforms, RPA (robotic process automation), Artificial Intelligence (AI), IoT (Internet of Thing), Data analytics, Mobility, Cloud, Managed services and Testing. FPT Software serves more than 1,000+ customers worldwide, 85 of which are Fortune Global 500 companies in the industries of Aerospace & Aviation, Manufacturing & Automotive, Banking Finance Insurance, Logistics & Transportation, Healthcare & Life Sciences, Retail, Utilities & Energy, and more. For more information, visit: www.fpt-europe.de.
About Covestro
Covestro is one of the world's leading manufacturers of high-quality plastics and their components. With its innovative products and processes, the company contributes to greater sustainability and quality of life in many areas. Covestro supplies global customers in key industries such as mobility, construction and housing, and electrical and electronics. In addition, Covestro's polymers are used in areas such as sports and leisure, cosmetics, healthcare and in the chemical industry itself.
The company is fully aligned with the circular economy and aims to become climate neutral by 2035 (Scope 1 and 2). In fiscal 2021, Covestro generated sales of €15.9 billion. As of the end of 2021, the company manufactures are presenting in 50 locations worldwide and employs around 17,900 people (full-time positions).
Media contact
FPT Software
Mai Duong
PR Manager
Email: [email protected]
Website: https://www.fpt-software.com/newsroom/