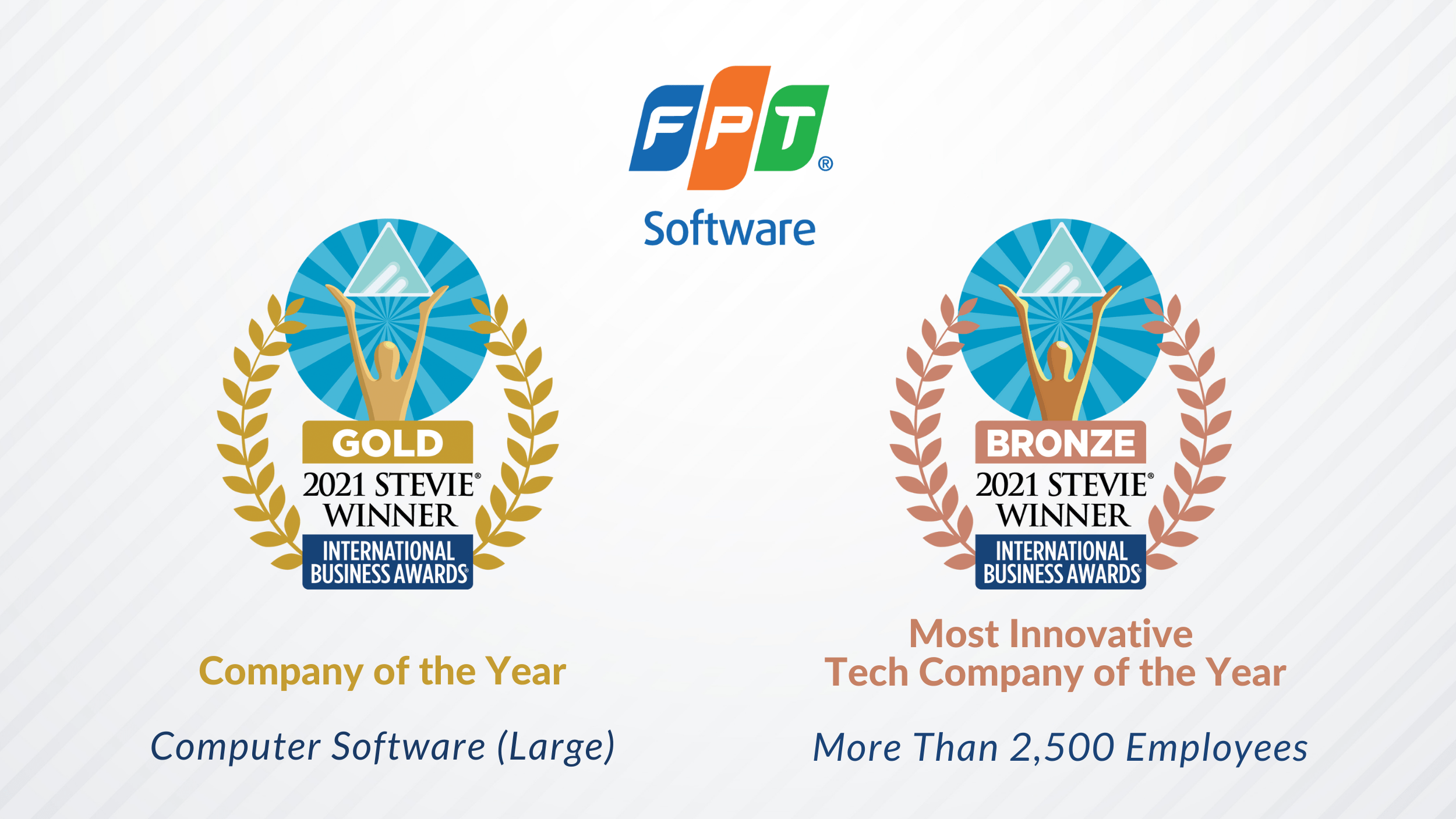 FPT Software was named the Gold Winner in the Company of the Year category, while also taking home Bronze Stevie® Award in the Most Innovative Tech Company category at The 18th Annual International Business Awards® today.
The International Business Awards are the world's premier business awards program, recognizing excellence in the workplace, from customer services to digital solutions that help transform enterprises. The 2021 IBAs received more than 3,700 entries from organizations of all sizes in 63 nations and territories.
This year, FPT Software joins such leading companies as Google, Tata Consultancy Services, Ernst & Young in the Stevie® Award winner list. The winning nominations were determined by the average scores of more than 260 executives worldwide who participated in the judging process from June through early August.
According to the judges, FPT Software was highly praised for its innovation and achievements in the past years. With comprehensive digital toolset akaSuite and the unique methodology FPT Digital KaizenTM, FPT Software has turned itself into a truly digital company and also helped other enterprises solve their business pain points, especially during the COVID-19 pandemic. The success stories with such organizations as Schaeffler and TPBank further testify FPT Software's capabilities as a global IT and digital transformation services provider.
"FPT Software has great portfolio of clients. Good to see that in 2020 the company achieved double-digit revenue growth and reached the 500 million USD in revenue milestone", noted by one of the judges.
"What we've seen in this year's IBA nominations is that organizations around the world, in every sector, have continued to innovate and succeed, despite the setbacks, obstacles and tragedies of the ongoing COVID-19 pandemic," said Stevie Awards president Maggie Gallagher.  "All of this year's Stevie Award winners are to be applauded for their persistence and their resilience."
This has been the second year for FPT Software to be in the International Business Awards®' winner circle. Last year, its flagship products akaMES, akaChain and akaBot won top places in the Business Technology Solution categories. In June 2021, these products and FPT Software also took home six awards including the Grand Trophy Winner title in the 16th Annual 2021 IT World Awards®.