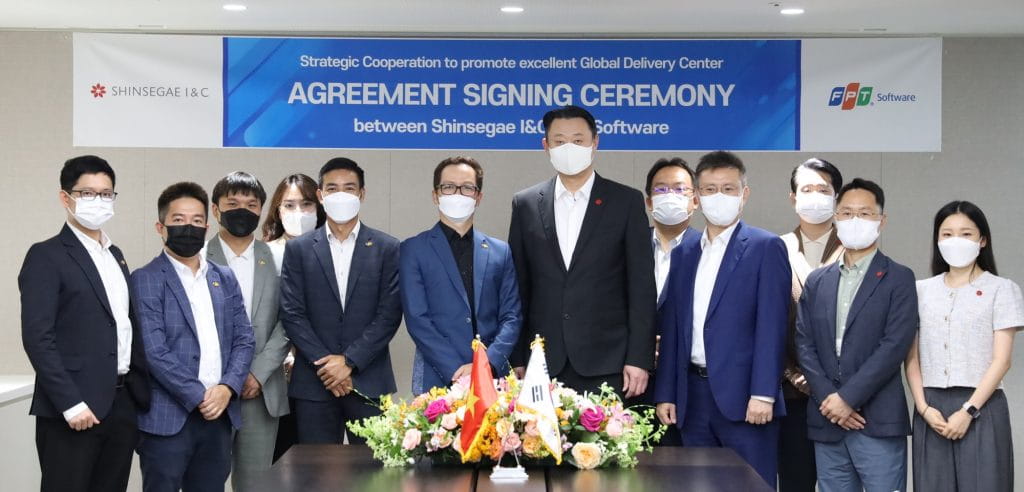 FPT Software recently inked an agreement to strengthen the partnership with Shinsegae I&C, the information technology arm of South Korea's retail giant Shinsegae, to promote the operations of a global delivery center in Vietnam. The move expects to reinforce the digital technology business of the two sides by addressing digital talent shortage and delivering high-quality software services in the region.
According to Software Policy and Research Institute, 76.3% of South Korean software firms are in need of well-trained software engineers. The lack of tech talents is a prominent issue that requires companies to take action.
As leading tech firms in each country, FPT Software and Shinsegae I&C have paid attention to developing their digital talent pool and digital capabilities. With a number of collaboration projects since 2019, Shinsegae I&C has been able to access FPT Software's dynamic human resources and complete IT solutions. FPT Software offers a mix of onsite, nearshore and offshore delivery models from 27 countries, enabling great scalability, timely assistance and cost efficiency for clients and partners worldwide.
Building on the proven track record, FPT Software and Shinsegae I&C have decided to extend the scope of collaboration with a dedicated global delivery center starting in December 2022. With this, the companies expect to serve their clients with highly skilled workforce and best quality software services to meet digital transformation demands.
"As the talent wars are happening over the world, FPT Software also continuously try our best to attract and retain the best tech talents to provide high-quality services to our clients. So we hope this collaboration will help leverage the resources of both companies." – said FPT Software Chief Operating Officer Tran Dang Hoa.
Last week, FPT Software celebrated the 6th anniversary of its Korean office. Launched in 2016, the branch has grown from only two members at the beginning to nearly 100 employees and become partners of several leading companies in South Korea.