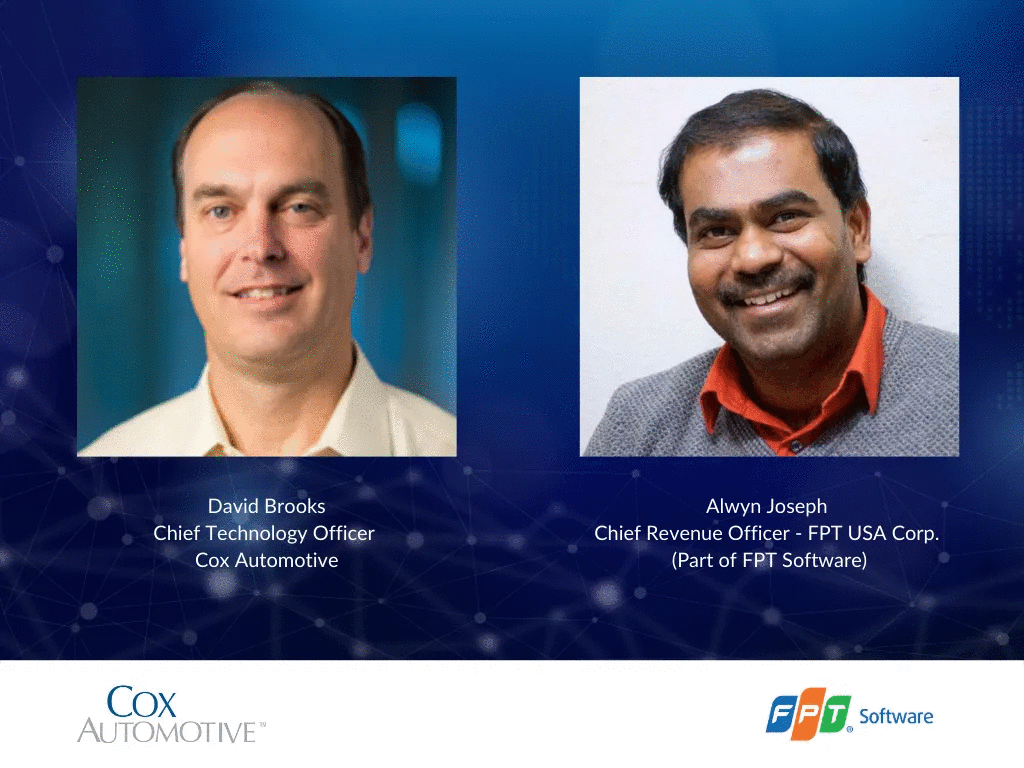 HANOI, Vietnam – Cox Automotive Chief Technology Officer David Brooks and FPT USA Chief Revenue Officer Alwyn Joseph recently sat down for an interview on how to gain maximum value from vendor consolidation in software development. The following is the transcript of that interview:
By prioritizing value over cost, Cox Automotive's innovative approach to sourcing is accelerating product delivery at scale.
Vendor consolidation is traditionally viewed as a cost optimization solution; however, CTO David Brooks and the product development team at Cox Automotive are successfully taking a different approach to sourcing – building strategic partnerships to drive value.
The Cox Automotive Product Group (CAPG) began its journey toward a consolidated strategic supplier base in early 2019. With over 190 suppliers engaged by various teams, the leadership team saw how the fragmentation was hurting operations and hindering accurate forecasts. They knew there was an opportunity to streamline and achieve greater value. Brooks and Chief Product Officer, Marianne Johnson, set forth on a consolidation RFP process with the intent to help better scale resources to demand, quicken delivery start up time, improve efficiency and efficacy of product development work, and reduce risk.
Now over a year after consolidating down to a core set of three suppliers in a Champion/Challenger model, Brooks along with Alwyn Joseph, Chief Revenue Officer of the champion firm FPT Software, spoke with us about how they are achieving value and lessons learned along the way.
Tell us more about what you were hoping to achieve with your vendor consolidation strategy.
DAVID BROOKS We knew there were cost optimization opportunities, but that was not our primary area of focus. We believed that by having a strategic partnership in place, we could ramp faster, fill any skill gaps, and enable flexibility in our workforce. Early on, we decided to prioritize value over cost. We wanted to enhance our development team's productivity in producing capabilities and features while empowering them to innovate and run as autonomous Scrum teams.
What key factors did you evaluate in your selection process?
BROOKS Since we were looking for a partner to co-create with, we needed to ensure our future partner had talented engineers. We knew with them embedded into our development teams, the ability to quickly demonstrate knowledge and skills would be critical to earning the respect of the team.
The size of the vendor's organization in relation to our size was important as well. We didn't want the risk of being the only or largest client for a small organization and we didn't want to get lost in a large firm. We wanted to be a medium or big fish for an organization that was large enough to support our needs and where we mattered to their business.
We also looked closely at attrition rate and tenure as key metrics. A lot of consulting firms burn through resources quickly or upsell junior resources. You can't build an engineering team with 15% turnover so we wanted to make sure we could create cohesive long-term teams to build on momentum.
As a participant in the RFP process, what was most valuable from a vendor point of view?
ALWYN JOSEPH It was extremely valuable to us that Cox Auto was able to clearly articulate their requirements – not just in terms of skillsets or numbers but in terms of business objectives and strategic intent. They were crystal clear on what they wanted to achieve.
Participating in an RFP effort for a partnership of this scale, it was important for us to assess the fit as well.  As part of our corporate strategy, we consider it important to create strategic growth engines versus a model of taking any opportunity; therefore, we were determined to do a "fit assessment" before we submitted our final response. Cox Auto's insight into their culture and co-creation engagement model helped us to ensure the partnership would be a good fit from both sides.
How are things going now that you are one-year into this new model?
BROOKS I am amazed at how few big challenges we've had.  The leaders on the ground are very complimentary about the smart and talented people on the team.  While the product organization established the Champion/Challenger model, the decision-making model is fully federated.  We make partners available for the smaller engineering groups to choose from based on their fit.
We have run into some issues with communication skills and personality conflicts, but we've seen that among internal teams as well.  The value we are really seeing from this level of partnership commitment is that the FPT team is focused on learning about our business and our culture.  They created Cox Academy to train their people about our business – helping them adopt our agile framework process as well as educating them about our history, culture, and internal terminology.
JOSEPH I agree, it has been a fantastic journey. When we first engaged with some groups that had worked with other partners for decades, there were a few initial hiccups as expected when working with a new team. After those initial engagements to "test the waters," it was a fast ramp to bring on over 1,000 team members in a period of about six months. The focus for us was to ensure we were finding the right teams who would embrace the Cox culture, processes, understand their ecosystem. We have built a true extension of Cox through the Cox Academy. We also launched a dedicated business unit to support Cox's objectives and included tailored career progression and HR policies to mirror Cox's models and ensure team members have an opportunity to grow and progress in their careers.
BROOKS We are seeing great results so far. We are co-creating products while we grow and mature our teams together. We have also collaborated on establishing a detailed engineering scorecard that measures engineer productivity such as the amount of code checked in and code quality, soft elements such as net promoter score and relationship score, as well as financials.
JOSEPH Yes, we collaborated to create meaningful metrics that encourage co-creating and solving real world business challenges while keeping the productivity, code quality, and process discipline aligned with goals. It is not about weaponizing the metrics, it is intended for people to understand where they are, benchmark against themselves, and grow from there.
How are your teams innovating and co-creating product?
BROOKS There is a misconception that innovation must be done on the side or as a quarterly activity.  With our teams, innovation happens every day at the Scrum level. Solution teams either determine or are given a business capability/challenge that needs to be filled/solved, and then they work together to solve the problem. We are focused on creating an agile organization with agile teams that own their product or focus area. They understand the customer's needs and work with their customer to iterate and experiment with new ways to solve those problems. At Cox Automotive, we believe true agile models enable co-creation and innovation at every epic and story level. It is a daily way of life. We don't believe in implementing agile only as a delivery model; the agile mindset is more important to us.
Organizational Change Management is always a critical part of ensuring intended business outcomes for any new initiative – how did you prepare your teams for this shift?
BROOKS It goes back to our core principles and operating model for pursuing the partnership model.  We made it clear to our employees early on that vendor consolidation was not a cost play – we were not going to fire and replace our teams. This optimization effort is a strategy of how we best manage and measure results of external our spend. We spent two years building out our operating model and metrics, and this simply leverages the foundation we created, fueling scale with as much plug and play as possible.
We are also fortunate that we have a great engineering operations team embedded into the development teams, operating in a Chief of Staff capacity for the engineering leaders. Their buy-in to this new model and ability to champion the message was invaluable for a smooth transition.
JOSEPH We fully understood that this initiative wasn't just about vendor consolidation, it was about Cox Auto enabling a product delivery transformation to an accelerated and global model. It took focused time and effort from our team to help educate engineering leaders, using a data driven model, on our speed of delivery, value of delivery, and co-creation models to ensure there was full buy-in before we launched any teams. Just like any transformation program, adoption was the most important objective and challenge that we jointly overcame by working together with the utmost transparency and commitment to making the partnership work from financial investments to leadership involvement to all other facets. Without adoption and the teams embracing the transformation wholeheartedly, I believe no amount of centralized leadership or decision making would have helped us to achieve the success we have achieved.
Was it a conscious decision to have geo-diversification in your suppliers?
BROOKS Honestly, it was probably more good luck than strategic intent. The suppliers that rose to the top had natural geographic diversification in Vietnam, Eastern Europe, and India. In hindsight, there is a lot of value in considering that as part of any evaluation.
What advice do you have for other organizations looking to change their product development sourcing strategy?
BROOKS Make sure you have solid operations and delivery processes before embarking on this journey.  Ensuring your ability to define, build, and deploy software internally is key to identifying a partner that is a good fit and quickly ramping them up.
JOSEPH Based on what we have seen as a firm, both the successes and the failures, the single most important element in transformation is people. Organizations that are successful ensure cross-functional teams are onboard, the teams fully understand their current roles and future place in the post-transformation era, and they have enough data to convince everyone why it matters to each of their team members, including the "what's in it for me." We mirror the same model internally within FPT to ensure people embrace new models, new cultures, new processes, understand their growth prospects and why transformation matters to the client. Defining those aspects and overcommunicating them makes a huge difference in speed to ramp, quality of execution, and greater retention.