HANOI, Vietnam, August 17, 2020 – Last Thursday, Vietnam's Ministry of Information and Communications announced the launch of akaChain, an enterprise blockchain platform developed by leading IT firm FPT Software, as part of its national program for digital transformation.
akaChain is one of a few made-in-Vietnam digital platforms that were hand-picked by the Government to accelerate digital transformation in both the public and private sectors. As per a plan approved by the Prime Minister in July, Vietnam sets to become a global Top 50 country in terms of information and communication technology development and Top 35 in terms of Global Innovation by 2030.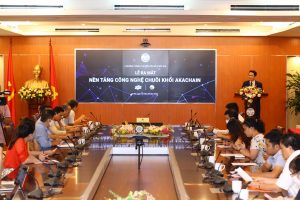 Vietnam's Ministry of Information and Communications Hosted akaChain's Launching Ceremony on August 14, 2020
Speaking at the launch, Mr. Nguyen Thanh Hung, Deputy Minister of the Ministry of Information and Communications, urged local businesses to speed up the move to digital. "As COVID-19 looms large, it is more important than ever to take their business online. We trust FPT Software's akaChain will help businesses to quicken the process through blockchain-based applications such as eKYC (electronic Know Your Customer), credit scoring, loyalty programs, traceability, etc., which would be very challenging in the absence of technologies", he said.
While enterprise blockchain remains a foreign concept for many businesses, FPT's akaChain has been trusted by customers across various domains. "From retail, supply chain, to financial services, blockchain applications have moved beyond cryptocurrencies. Built on Hyperledger Fabric, the akaChain platform helps to enable a frictionless, secure, and transparent connection for all parties involved. That is the top concern of every digital business nowadays", said FPT Software's Vice President and Chief Operating Officer Tran Dang Hoa.
"FPT Software is also working to develop Digital ID solutions based on the akaChain platform, making it much easier and faster to prove identity and validate personal information. The key here is to constantly improve security and transparency. We are excited to be part of the national digital transformation program and help the Vietnamese Government to build early foundations for a digital economy, digital society, and e-Government", he added.
About akaChain
akaChain is backed by FPT Software, a global leading technology and IT services provider. It is an end-to-end, permissioned, multi-chain network based on the Hyperledger Fabric. Since establishment in September 2018, akaChain's product has assisted many enterprises, from SMEs to Fortune 500 firms, to transform with the distributed ledger technology. The company provides a broad range of permissioned blockchain-based products and services in multiple sectors, including retail, supply chain, banking and finance, insurance, shopping mall management, etc. to transform with its distributed ledger technology. For more information, please visit https://akachain.io/
About FPT Software
FPT Software is a global leading technology and IT services provider headquartered in Vietnam, with nearly USD 463 million in revenue and more than 16,000 employees. As a pioneer in digital transformation, the company delivers world-class services in Smart factory, Digital platforms, RPA, AI, IoT, Enterprise Mobility, Cloud, AR/VR, Embedded Systems, Managed services, Testing, Platform modernization, Business Applications, Application Services, BPO, and more. It has served over 700+ customers worldwide, a hundred of which are Fortune Global 500 companies in the industries of Aerospace & Aviation, Automotive, Banking and Finance, Logistics & Transportation, Utilities and more. For more information, please visit www.fpt-software.com
Media contact
Hue Le (Ms.)
PR Manager
FPT Software
Email: [email protected]
Mobile: +84866867745