Last Friday, Vietnam's Ministry of Information and Communications (MIC) officially introduced akaBot, FPT Software's robotic process automation (RPA) platform, as the next "Make in Vietnam" digital solution in its National Digital Transformation Program.
akaBot is the third FPT's platform following FPT.AI and akaChain that the Vietnamese Government hand-picked into its ecosystem of digital solutions that are expected to help local businesses increase productivity, cut costs and optimize resources. Vietnam sets to become a global Top 50 country in terms of information and communication technology development and Top 35 in terms of Global Innovation by 2030.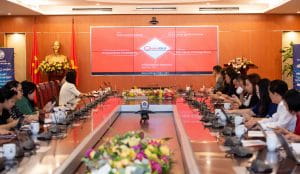 akaBot was introduced at the launching ceremony hosted by Vietnam's Ministry of Information and Communications on November 13, 2020
Founded in 2018, akaBot is among the digital transformation solutions developed by FPT Software for the mission to develop the national digital economy, which is one of the three pillars in the National Digital Transformation Program. At the ceremony, Deputy Director of the Department of Information Technology Do Cong Anh expressed his belief that FPT Software's platform will accelerate digital transformation in Vietnamese enterprises. "I trust that akaBot will play a crucial role in digital transformation for businesses in the fields of finance, banking, logistics, and so on", he said.
akaBot has been providing RPA solution to more than 20 customers and strategic partners in six countries and across different industries to help them perform repetitive tasks, thereby improving operational efficiency and customer service. The platform has received positive feedback from users, who praised that akaBot enabled cost saving by 50-60 percent, performance boost by 80 percent, and turn-around time reduction by 90 percent in their organizations. So far in 2020, akaBot has received international recognition after winning International Business Awards and APAC Stevie Awards.
According to product director Bui Dinh Giap, akaBot will continue to invest and develop a diverse product ecosystem with more advanced features. "We aim to strengthen akaBot's brand positioning strategy and expand business globally with the desire to assert Vietnamese technology capabilities on the international map", he said.