To celebrate FPT USA (FUSA)'s 10 years anniversary, top experts gathered to share their experiences contributing to the major success of FUSA in the US. Their contributions represented all FUSA's efforts in 10 years of evolving and prospering from a small oversea branch to a leading information technology (IT)'s provider in USA, and further development in the future.
Nguyen Son Hanh
Automotive P&L Leader
Hanh directed a team of 20 people to grow to 250 people with the revenue growth of more than 4 million USD, which gained him the title "Best Performer of The Year in FPT".
Nguyen Son Hanh is currently Automotive P&L Leader in FPT USA. Back in time in 2010, he was Business Leader of a development team for one of the largest vendor for automotive chips. Beginning with only 20 people, the team was assigned to solve different business's challenges within limited time. Hanh and his team worked industriously, provided 24/7 support, which had great impression on the customer. Under Hanh's management, the team expanded to 250 people with revenue growth of more than 4 million dollars. He was awarded "Best Performer of the Year in FPT" for his achievements. In 2015, receiving huge encouragement from other leaders in companies and families, Hanh decided to take a giant move to continue his career path in United States to provide better support for customers and build up the customer network. Enduring periods of hardship working with American customers who have high-expectation in various states, Hanh enhanced both his technical skills in Cloud, IoT, and soft skills to help customer tackle different problems. Hanh was determined to grow Automotive and Semi Conductor segment by 50% next year.
Hoang Anh Minh
R&D Manager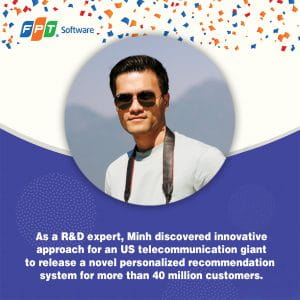 As a R&D expert, Minh discovered innovative approach for an US telecommunication giant to release a novel personalized recommendation system for more than 40 million customers.
In 2015, a telecommunication giant came to FPT with a harsh challenge: to develop a differentiated engine which is capable of analyzing billions of data. Hoang Anh Minh was assigned to tackle those problems in research and development. With expertise and persistence, Minh and his team found innovative approach to develop a system providing advanced analytics, which help to unleash the power of billion data and provide personalized recommendation for more than 40 million customers. The launching of this ground-breaking system enhanced customer's competitiveness over other competitors, maintained the position of the leading provider of digital entertainment services. Although having diverse experience in working with customers from globe: Japan, England, etc., Minh decided to move to FPT USA to continue his passion in R&D in the world's most competitive market. After 2 years, Minh has sharpened himself with not only in-depth knowledge in Microservices, Big Data, AI, Analytics but also interpersonal skills and decisiveness to solve more and more tough challenges for customers. The 1976 – born expert loves pets, fishes and aquariums. Starting his job in FPT Software since 2006, he had been in various positions: business analyst, division leader, business unit leader and R&D manager. He is now challenging himself with his own start-up, which is currently on a rise.
Nguyen Anh Duc
Technical Lead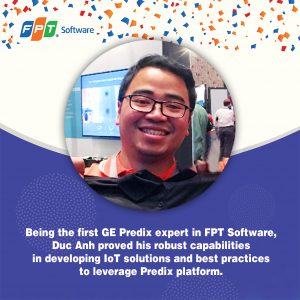 Being the first GE Predix expert in FPT Software, Duc Anh proved his robust capabilities in developing IoT solutions and best practices to leverage Predix platform.
Being one of the first GE Predix expert in FPT Software, Nguyen Duc Anh has proven his ability in various projects working for top clients such as GE, AT&T , etc. In 2016, Duc Anh is the first FPT-er to achieve the Predix Certified Developer certificate in Vegas, US. Duc Anh has been working for FPT USA (FUSA) for 3 years, with a background of Master of Science in Computer Science. Working closely with the GE Solution Team, Duc Anh and his team developed IoT solutions and best practices to leverage Predix platform; he was also the leader of various projects and solutions which supported both GE and their customers to design and develop systems on top of Predix platform. In FUSA, he highly valuated self-teaching and teamwork skill, believing these skills support him to absorb novel knowledge and skills easier, enable him and his team to achieve multiple of extraordinary things. The biggest challenge Duc Anh encountered in FUSA was to support customers to prepare for the HITRUST certificate despite the lack of knowledge about the field and the architecture skill. However, thanks to the team effort, he was able to meet the deadline and the certificate's requirement with the team. Duc Anh expects to sharpen his soft-skills aligning with his technical skills to gain better customer satisfaction and customers. In his colleague's eye, he is a genuine computer science expert, with a logical mind, tight architecture system and serious working attitude.