The smart phone application "Japanese Language Training AI", co-implemented by NTT Docomo and FPT Japan, was honoured with Good Design award 2018 the Japanese Institute of Design Promotion.
"Japanese Language Training AI" is an application training Japanese conversation skill for all foreigners interested in Japanese and foreigners working in Japan. Unlike normal language teaching applications which make learners memorize sentence patterns, this application with the support of AI technology encourages learners practice games. The application is equipped with a suitable function to evaluate and advise even if it's not the perfect Japanese pronunciation, to reduce the learners' anxiety when talking to Japanese people. The Artificial intelligence (AI) equipped in the application will judge user's pronunciation and conversational skill, and give advice on  how to express it naturally. The trial version is completely free and supports English and Vietnamese.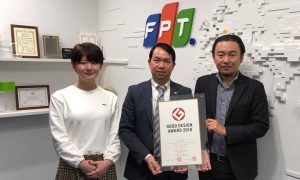 FPT received the award with NTT
The application is produced by NTT Docomo and FPT participated as the contributor by testing and giving feedback, which is a typical and important model in product development: to co-operate with customers to shape the final product.
"We believe in the future of application development! Hopefully the application can contribute to Japanese learning journey of foreigners!" FPT Japan CEO Mr. Nguyen Viet Vuong is optimistic about the development of Japanese Language Training AI application.
Mr. Vuong expects in the future the application will be easy to access for both Japanese learners living inside and outside Vietnam. FPT was invited to participate in the application development process based on the value positioning and technological capabilities of FPT, as well as a large number of workforce who learn Japanese, speak Japanese, and love Japanese.
"NTT Docomo's technology is an AI technology that provides sound and natural language. The application for learning Japanese is only an initial test application, and many other applications can be developed on this technology." Director of Digital Logistics Industry Group Mr. Bui Vinh Thang shared.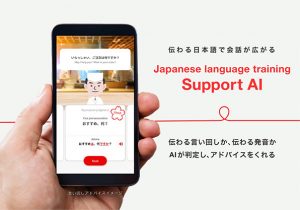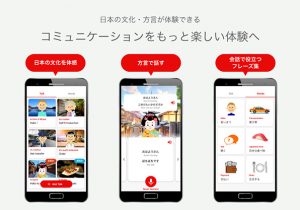 The "Japanese Language Training AI" application
Good Design Award is an annual award awarded by the Japanese Institute of Design Promotion for products enriching our lives and society through design. Since its establishment in 1957, the Good Design Award recognizes different designs around us, including industrial goods, architecture, software, systems, services, etc.