In a recent interview with FPT Chairman, Japan's largest business newspaper Nikkei pressed the role of technology adoption in Vietnam's triumph over COVID-19. From self-assessment applications to the increase of video streaming services, FPT was singled out by Nikkei as a success story of fighting COVID-19 with innovation.
Please see below for the full-text article.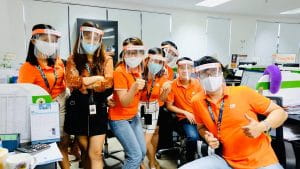 Employees of FPT Corporation (Hanoi) wear masks and face shields at the workplace
Despite a population of 96 million people, Vietnam only records 355 cases of COVID-19 and not a single death as of June 2020. The country's anti-pandemic measures are drawing worldwide attention. This success could not be achieved without flexible use of information technology. Over the past years, Vietnam's IT industry has thrived largely thanks to outsourcing jobs for Japanese companies. Perhaps Japan has a lot to learn from this "successor".
"Your probability of getting COVID-19 is 24%" – this is a display text on a smartphone application in Vietnam. The application shows users their probability of COVID-19 infection after verifying their social media accounts and analyzing data such as travel history and use of public transportation. The application has been popular in Vietnam thanks to its convenience and ease of use.

People in Vietnam use application for COVID-19 infection risk assessment
The probability of COVID-19 infections in Vietnam is classified into six levels from F0 to F5. F0 – the highest level – denotes the infected person to be sent to hospital. Anyone that contacted F0 is called F1 and will be sent to quarantine facilities. Lower levels of contact, from F2 to F5, are treated with different levels of quarantine and distancing.
Once patients are identified, the application will track their close contacts to calculate the probability of infection using AI. The more users, the higher accuracy, thereby facilitating anti-pandemic measures. This application is an example of how digital technology and data can be harnessed for social good.
Launched in mid-April after only one week of development
Information technology has been leveraged in communications to ease the public's concerns and anxiety. A good example is the use of chatbot to address inquiries related to COVID-19 automatically. The transparency of infection risks helped raise the public awareness for more effective epidemic prevention.
Vietnam has also thoroughly implemented such measures as mandatory health declaration for travelers from overseas or quarantining affected areas. Such stringent measures call for the cooperation of the community, and more importantly, the application of information technology.
Development of applications and adoption of digital technologies are carried out by IT companies at the request of Vietnamese government. "The application was successfully developed within a week", said Truong Gia Binh, Chairman of FPT Corporation – Vietnam's largest technology conglomerate. As a result of this fast-moving project, Vietnamese people were able to use the application to assess infection risk as early as April 20.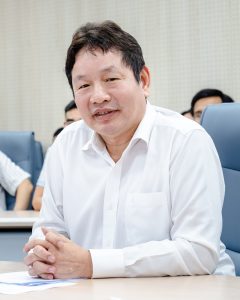 FPT Chairman Truong Gia Binh
Utilizing the mechanism for detecting individual infection risk, FPT also developed its own mechanism to identify infection risk of its employees. "We have set out anti-pandemic plans, work from home for example", Chairman Binh shared. This measure has been highly appreciated by its staff.
FPT's name is widely recognized in Japan for successfully implementing several offshore development projects for large Japanese firms like Hitachi or Recruit Holdings at reasonable cost. In Vietnam, FPT was named the largest technology conglomerate with a revenue of VND 27,717 billion (equal to about JPY 128 billion) in 2019, showing a year-over-year increase of 19.4%.
FPT remains resilient despite halted projects thanks to video broadcasting
COVID-19 pandemic spared no business, even a strong one like FPT. Due to the pandemic, some of FPT's system development projects for Japanese market were halted. Development centers in Hanoi and Da Nang were forced to reduce the number of employees working in the office by half due to social distancing regulations.
In response to the circumstances, security mechanism for work-from-home employees was applied. Employees working in the office were requested to wear face masks or face shields and had body temperature checked at the office entrance.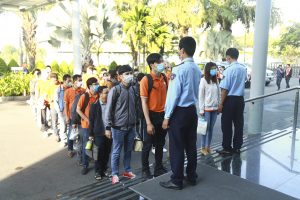 FPT employees have temperature checked before entering the office in Ho Chi Minh City
It was the engineers working in Japan that faced real difficulties. "FPT has about 2,000 Japan-based employees," said Chairman Binh. Some staff members were temporarily laid off due to the pause of projects. Such employees would have been reallocated for other missions, yet they were stuck in Japan due to entry restrictions and flight suspension.
"Amid Japan's face mask shortage, FPT sent masks and other supporting equipment from Vietnam. Allowances and accommodations are also provided to ensure employees' wellbeing", Binh noted. FPT also opened online courses during this time to help its members of staff improve their skills.
The corporation worked with the governments of Vietnam and Japan to book flights for nearly 100 employees to return to Vietnam in early June. After 14 days of isolation, all employees were tested negative and have reunited with their family.
As system development projects have been on hold since April, FPT shifted its focus to other services such as video broadcasting. Demand for entertainment grows as more people practice social distancing, so FPT increased the number of streaming programs on its platform. "By adding Vietnamese programs to subtitled foreign ones, our revenue has increased by 30 per cent on year," said Binh.
What can Japan learn from its "successor"?
By leveraging information technology, Vietnam is standing firm against COVID-19 outbreak. Now let's take a look at Japan's efforts to cope with the pandemic.
On June 19, Ministry of Health, Labor and Welfare of Japan launched "COCOA" application to notify users about the possibility of direct contact with COVID-19 patients, nearly a month after the state of emergency was completely lifted and two months later than Vietnam. Communication on COVID-19 has faced numerous difficulties. Mistakes even occurred in reporting the number of cases during the state of emergency.
The distribution of JPY 100,000 subsidy per citizen has been delayed due to shortcomings in information system and document processing. During the implementation of Business Continuity Subsidy for small and medium-sized enterprises affected by COVID-19, many issues related to task delegation were revealed. Throughout the pandemic, measures and speed of information technology application between Japan and Vietnam were apparently different.
Truong Gia Binh, FPT Chairman and founder, have been honoring Japanese companies as his "mentors". Binh expressed his gratitude, "Japan has shown me the first steps in quality management as well as other fields". There are many things Japanese companies can learn from the fighting spirit of this "successor".
(Owada Naotaka – Senior researcher, ICT Lab, Nikkei BP Research Institute)