"Airbus is delighted to cooperate with FPT – a credible and innovative software partner – who will assist us to conquer challenges in Digital Transformation." – Said Mr. Marc Fontaine, Chief Digital Transformation Officer, Airbus during FPT and Airbus' partnership kick-off ceremony in Hanoi in March 2018.
FPT, the leading IT service & solution provider in Southeast Asia, has spanned all over the world with the presence in 33 countries. Over the last 30 years, FPT has successfully expanded its global footprint with cooperation and partnership with world's major businesses in Asia, America, Europe, etc. The company has been catering to 600+ customers in various industries, including 100+ Fortune 500, helping them to make the best of technologies and transform their conventional IT landscape into digital-driven models.
FPT, through technology and globalization, have found success internationally with the substantial and rapid growth of its overseas branches. Among key markets, Europe is considered a potential market where the demand for IT innovation and migration services is enormous, resulting in FPT's decision of establishing FPT Germany in Essen – the fourth largest city of Germany's most populous federal state of North Rhine-Westphalia in 2012. Throughout 6 years of development, FPT Germany has made expeditious movements by continuously winning contracts with European giants including Airbus, RWE/innogy, Siemens, and many more. In this article, the collaboration with Airbus which marks a significant milestone in FPT's journey to become a trusted Digital Transformation solution provider will be thoroughly highlighted.
Since February 2017, FPT has cooperated with Airbus in implementing Proof of Concepts and other various projects related to digital mobile applications, website crawling system, etc. The cooperation has been further promoted with FPT's becoming the first Southeast Asia's representative as Airbus's strategic partner in developing aviation technology related to Skywise, an open aviation data platform launched in June 2017. Airbus develops Skywise with the aim to promote it as a platform of reference used by aviation players to improve their operational performance and business results as well as to support their own digital transformation. Hence, FPT has been chosen as a partner in consulting, developing applications as well as acting as technical support and helpdesk division regarding services and applications related to Skywise.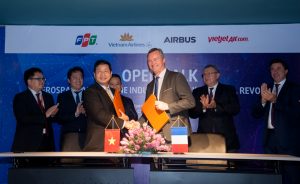 The collaboration focuses on provision of API for third parties to develop applications on Skywise, applications migration, data ingestion/collection and applications development and maintenance. Specifically, based on the assessment and analyzation of existing applications, FPT has developed roadmap for migration and integration then migrated existing applications to Skywise as well as implemented regression and loaded testing for apps on Skywise. The project team has also developed Skywise APIs and compiled API documentations and materials for training. In order to enhance the potential of the open data platform, FPT has involved in the process of ingesting airline data and transforming them, feeding more data into Skywise. Besides, FPT also helps in developing technology services on top of Skywise platform in the following areas: Innovative Application Development, Predictive maintenance applications, Cloud, Data analysis, Micro services/API design and development from existing components. In addition, FPT has formed a workforce of up to 500 experts to conduct training Airbus's customers and Skywise users on how to utilize Skywise in developing solutions to improve business efficiency in the aviation industry.
"Skywise, "the beating heart of aviation", is a strategic initiative at the core of Airbus digital transformation and a game changer for the entire industry". Said Mr. Marc Fontaine, Chief Digital Transformation Officer of Airbus. "As part of this open and innovative ecosystem, we are happy to engage with FPT as one of the partners that will help us taking this challenging endeavour further". With the on-going projects, FPT has further developed applications for Skywise, contributing to connecting and completing the digital aviation ecosystem. By applying Analytics of Big Data and AI on Skywise, FPT has supported in Airbus's gathering aviation data, enabling users to access a single point yet gaining deep data insights. Furthermore, the company also enhanced Skywise's values in boosting fleet operational reliability and efficiency through predictive maintenance, optimising each aircraft's performance and improving flight operations.
The cooperation agreement with Airbus on Skywise Data Platform has marked a significant milestone of FPT in the journey to become trusted partners of global leading technology corporations in developing and implementing their digital platforms. "With strong expertise in aviation industry, we commit to investing resources in order to develop Airbus's Skywise as well as other aviation technology services and solutions". Affirmed FPT Chairman Truong Gia Binh.
FPT has years of experience in aviation industry by cooperating with the largest airline in the United States as well as the flag carrier of Vietnam – Vietnam Airlines. The company's expertise has been proven by a vast array of projects such as Airlines E-commerce Portal, Frequent Flyer Applications, Navigational Information, etc. FPT also has capabilities and experience of cooperating with technology giants including Amazon Web Services (AWS), Siemens and Microsoft to bring about disruptive digital solutions helping enterprises change the way they do business.