The film crew of the International Monetary Fund in Vietnam (IMF) has made an interview video with FPT Chairman Truong Gia Binh in July 2017.
Sharing about the reasons for choosing FPT for the video of IMF, Mr. Jonathan Dunn, IMF's Resident Representative in Vietnam, considered FPT Corporation as a prime example of a private company in Vietnam which is well-known for the drastic development in the field of information technology. Besides, FPT also demonstrates a successful transition from a 100% state-owned enterprise to a dynamic private enterprise.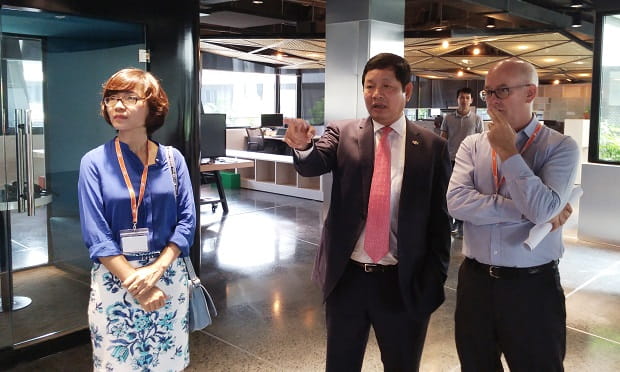 "I was very impressed with Mr. Binh's dynamism and the incredible campus that FPT has built. Some of the things described to me were really advanced. It's amazing to see that Vietnam is integrating so thoroughly with other big actors in the world regarding technology and FPT is providing IT as well as other technology services globally" said Mr. Jonathan Dunn, Resident Representative of International Monetary Fund in Vietnam, after the interview with FPT Chairman.
IMF was founded together with International Bank of Reconstruction and Development (now World Bank) at Bretton Wood International Conference held in July of 1944. Till September of 2011, IMF has 187 member countries with the target is to promote the global financial collaboration, guarantee the financial stability, create the condition for development of global trade, create jobs and develop economy stably, and reduce poverty on over the world.