FPT Corporation hosted exclusive CIO Talks in Dallas, USA and Frankfurt, Germany for global Chief Information Officers (CIO) and information technology (IT) leaders from leading corporations including Innogy, Siemens, Kostal, and Deutsche Bank, etc., to engage and collaborate on Digital Transformation issues, benchmark paths and further discuss the promising future of Digital Transformation in the 4.0 Industrial Evolution.
20 CIOs and IT leaders from US and 20 CIOs from Germany joined in these invite-only sessions, which is hosted by FPT Corporation, to exchange the foundation and collaboration of IT industry, which is hosted by FPT Corporation in Dallas, USA and Frankfurt, Germany.
At both events, the best practices in Digital Transformation concerning implementation perspective, digital transformation strategy, along with success stories of data driven business, analysis of the current information infrastructure to obtain winning decisions were shared by Mr. Phuong Tram, the former CIO of DuPont and now FPT Corporation's Chief Adviser in Digital Transformation, to leading corporates' representatives.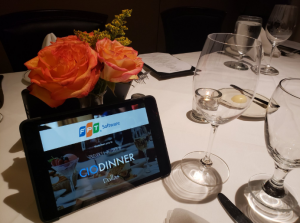 Mr. Phuong Tram is now enabling digital transformation knowledge and expertise in various projects and fields. As the former CIO of DuPont, he led DuPont worldwide IT and Processes organization, focusing on direct IT support for business units, functional units and regional operations. He led DuPont to be the first company in the world to adopt Microsoft 365. Seven years ago, by a clear and seamless digitalization strategy, Mr. Phuong Tram reduced half of billions of IT cost; and reduced legacy systems from 6,000 applications to 1,100 in 3 years. With SAP, Mr. Phuong Tram consolidated and created 4 global SAP instances, making DuPont the first company to design and deliver SAP Hana Data in Hubs. With AT&T, he joined forces to invent the Netbond, linking open API with all commercial environments such as Salesforce, Softlayer, Azure, etc. In collaboration with Microsoft, Mr. Tram ran the largest Azure environment for thousands of servers, including the largest 400+ core Azure for R&D computer simulation of product development and screening.
CIOs and IT leaders also exchanged their point of view and experience transforming their business throughout the event. Discussing about the next CIO generation and the revolution of digital transformation, Mr. Phuong believed digital transformation was the only way to limit legacy, reduce head count and improve efficiency.
While the main concerns of US CIOs were strategies of Digital Transformation, know-how and costs; the CIO concerns in Germany were related to Digital Transformation practices and general processes. Regarding the implementation of Digital Transformation, Mr. Phuong Tram emphasised the importance of changing people's mind set by showing them the possibility and capability of the novel technology to successfully implement Digital Transformation. Global opportunities of Digital Transformation in Germany were discussed, as Germany is a global export country and has an excellent understanding of the global supply chain and local regulation. The CIOs were also seeking for collaboration with FPT Corporation in Digital Transformation field.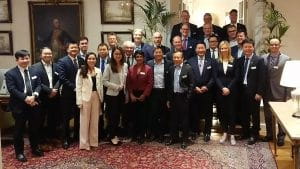 "Digital Transformation will both change and not change the business process. Digital Transformation doesn't change your core business. But you will have near real time data to play with and your leader will make decision faster to make your business process will be more efficiency and effectiveness." Mr. Phuong shared in the Q&A section.
Through the two events, the guests were satisfied with the knowledge and sharing about the best practices in Digital Transformation. "This is the best event I have ever joined." 7-Eleven Inc. representatives shared.