Nguyen Ngoc Thuan, a Cloud Security Analyst of FPT, is the author of an Amazon published book named "Microsoft Azure IaaS Defense In Depth Guide", which equips enterprise with up-to-date knowledge to protect them from cyber threat.
In the US, Thuan is currently working as a Cloud Security Analyst in a project of FPT for a Fortune 50 Companies. He is responsible for designing and implementing proactive security controls across large DevOps segments. Thuan has been awarded a Microsoft Most Valuable Professional (MVP) 9 years in a row. He was also a guest speaker at many Microsoft technology international conferences in Europe and Asia.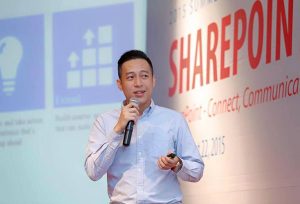 With many years of experience in cloud security and cybersecurity, on July 2018, after 4-month writing, the book "Microsoft Azure IaaS Defense In Depth Guide" was published on Amazon and well-received by technology communities. Companies and organizations are starting to reap the benefits of using a cloud infrastructure, however, nothing is completely secure. "Cloud is what all are moving to, and cybersecurity is what all are dealing with. Migrated to Cloud does not mean that all your data is fully protected." Thuan said.
In his book, Cloud Computing and its benefits like hardware cost savings, improved workloads and comprehensive automation are discussed. General security settings manual are also mentioned, for example, how to apply plans to comprehensively protect your system stored on Microsoft Azure IaaS or how to apply Microsoft Azure built-in features to blocking attack (brute-force, DDoS, surface attack). Furthermore, readers will have hands-on exercises on how to build a protected SharePoint Server 2013 on Microsoft Azure.
Thuan always tries to be a tactical person at the downfield dealing with cybersecurity. Thuan has published many eBooks, presentations for both domestic and foreign IT community, two of which are the SharePoint Customer Auditing Process and the WikiNinjas Guide to SharePoint 2013 with over 100,000 downloads. Currently, he is exploring several areas around cybersecurity and planning to write another book about cloud security to publish in the near future.
Joining FPT since May 6, 2014, Thuan's first job was to build products on the SharePoint platform and manage a number of large SharePoint systems for Singapaore government. After moving to FPT USA, Thuan has opportunities to work with large clients in Cloud Computing projects and enhance different skills, including critical thinking, proactive communication and especially analytical skills. To congratulate the 10th birthday of FPT in the USA, Thuan expressed: "All of us look forward to another 10 year anniversary with another intensive growth. Thanks FPT USA for giving me the opportunity to grow up."