FPT and a Japanese giant are collaborating to develop system for smart manufacturing, responding to an advancing manufacturing industry in need of smarter systems.
Under the cooperation, FPT will analyse data collected from various factories in the United States through MindConnect Nano in order to build a monitoring system for customer's manufacturing operations. This project is deployed on MindSphere, Siemens' cloud-based open IoT operating system that connects products, plants, systems, and machines, helping to harness the wealth of data generated by the Internet of Things (IoT) with advanced analytics. The monitoring system is expected to enable factories to pro-actively schedule for maintenance and downtime, optimizing their system efficiency.
Within the framework of high-level meeting in Davos (USA), FPT had a chance to meet the client and showcased its strengths and strategies, meanwhile the client expressed the desire to cooperate with FPT on Digital Transformation, IoT, Artificial Intelligence and Autonomous. Since then, both sides have cooperated in ways that unlock greater value for manufacturers via Smart Factory and modernize the manufacturing ecosystem for Industry 4.0.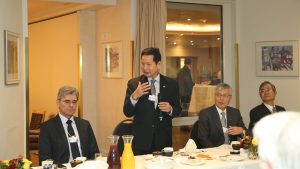 With capabilities of IoT Cloud MindSphere and status as Siemens' Global Premier Partner, FPT has gained client's trust by demonstrating substantial investment in developing technology capabilities, digital converting and Smart Factory. Previously, FPT supported an American multinational corporation to digitalize current processes and generate intelligent real-time alert system. Digital Twin on MindSphere platform was also enabled by FPT to notify lists and details in occasion of abnormal signals in factories.
Since early July 2017, FPT Corporation and Siemens have been collaborating in MindSphere – the cloud-based open IoT operating system from Siemens, helping businesses adopt digital transformation for their organizations particular in leveraging big data for IT/OT convergence. FPT has committed to develop up to 1,000 FTEs worldwide to help Siemens in MindSphere's global go-to-market, both in customer acquisition and technical roll-outs. Customers in industries where the two companies have strong footprints and expertise, namely Automotive, Aviation and Utilities among others, are expected to benefit greatly from the strategic alliance.