Nguyen Tung Lam has become FPT Software's 101st Project Manager to successfully acquire Project Management Professional (PMP) Certificate on October 17th. Despite of his enormous effort, he valued his working time in FPT Software, which contributes to his success gaining the certificate.
Sharing about his experience, Lam shared the Project Manager Community in FPT Software had introduced him to quality materials such as PMBOK v6 and RITA v8. Together with the instruction from external mentors, he had systemized the knowledge to review. Within four months, he spent his valuable time to study and practice for the examination. In order to get a good result in PMP test, Lam suggested participants to understand all processes and be flexible with the questions.
Lam shared Project Managers working at FPT Software had many advantages to gain PMP Certificate, thanks to the company environment. FPT Software has a good process of working, which is quite similar to the knowledge in PMBOK. "I would not have a chance to acquire this certificate if I worked for another company." He emphasized.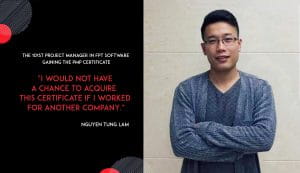 FPT is known to have a great working environment, which was awarded multiple times with top 100 Places to Work in Vietnam 2015; Vietnam HR Award 2014 and 2016; Jobstreet's Top 5 Companies to Work For; and CareerBuilder's Employer of Choice 2017 and more. With the focus on employees and the work and life balance, FPT is ready to empower employees with their future career and study; providing them the appropriate environment to develop themselves further. Recently, FPT was awarded with HR Asia Magazine's among Best Companies to Work for in Asia for the firm's employee engagement, culture and working environment, employee's developing and promoting opportunity.
Project Management Professional Certificate is considered as the "gold" standard of the world's leading companies and organizations, which is the measurement of project manager's professionalism, experience and understanding in the project management field. PMP Certificate is required for all Project Managers/Directors working in international project, testing their ability to manage large projects with large workforce and budget. Moreover, large clients tend to set a quota for the number of Project Managers/Directors holding PMP Certificate when choosing vendors.