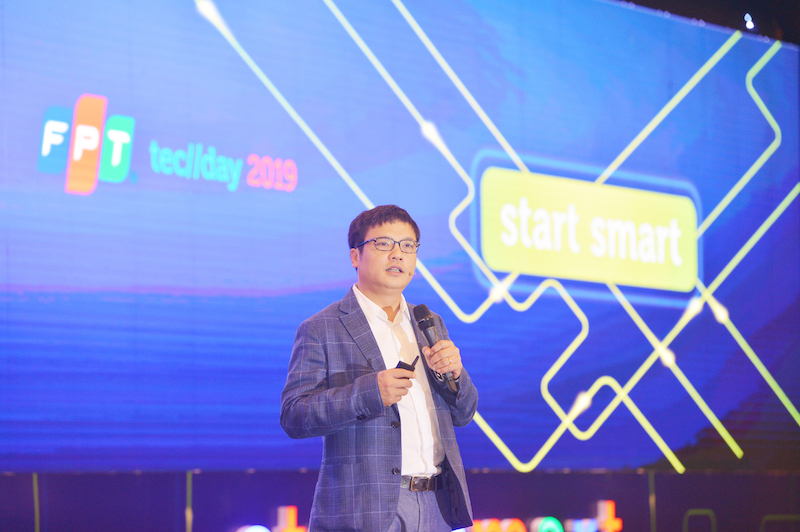 "Anyone here received a call to confirm your event attendance?", FPT CEO Nguyen Van Khoa addressed the audience at FPT Tech Day 2019 last week. "The calls were made by our virtual assistant", he said, adding that it exemplified how a business could start smart on digital transformation.
Now on its 7th year, FPT  Tech Day brings together digital business doers and thinkers in one place to discuss how they could ease into the digital transformation era. For the first time, an AI-powered virtual assistant was deployed to track RSVPs and confirm attendance, relieving part of administrative tasks to handle some 1,000 participants.
According to Khoa, a large number of Vietnamese businesses are still wary of the digital transformation hype, "1.5 times higher than that in the world". "They might have no idea where to begin, which model to adopt, or who to partner with".
"Start smart on digital transformation. Start with simple things like this", Khoa said. "Otherwise, we will soon be replaced and disappear".
For the past 31 years, FPT has gone global by starting small. The company now serves more than 600 clients worldwide, nearly a hundred of which are in the Fortune Global 500.
"Digital transformation is an unstoppable megatrend", Khoa said. "We will definitely have to face it. We need to find a way to live and thrive with it. One of us might have taken the first steps, but many have not even started".
He shared with the audience a digital transformation methodology called FPT Digital Kaizen, highlighting three key principles: Think Big, Start Smart, and Scale Fast. "Start Smart, among all, is the most important for you and us".
"It would be a challenging journey", Khoa noted. "Within three months, we had 300 meetings internally and with clients to debate who does what and how. But we are committed to developing a number of platforms, products, and services to help businesses accelerate digital transformation. We will be with you in this journey".
After three decades leading Southeast Asia in IT services, FPT has recently decided to shift its focus onto digital transformation. Since 2017, the company has become digital technology service partners of global leading businesses, leveraging next-gen technologies including IoT, Artificial Intelligence (AI), 5G, Serverless Computing, Blockchain, Robotics, Biometrics, 3D printing, Virtual reality (AR), Drones, etc. FPT sets to be named in the world's Top 50 digital transformation service provider within 10 years.[/vc_column_text][/vc_column][/vc_row]