At the investment promotion conference within the scope of Vietnam President Tran Dai Quang's state-level visit to Japan, FPT and two major Japanese companies signed 30-million-USD MoUs for cooperation, laying the groundwork for their business transformation in the new digital era.
According to the MoU with ISE Foods – Japanese food processing major, FPT will apply advanced technologies on the manufacturing process of egg factories in Japan and Vietnam. ISE Foods is now operating a farming system raising more than 130 million chickens in Japan and the United States. In order to increase their efficiency and productivity, FPT, as a pioneer in Digital Transformation, aims at helping ISE Foods get more involved with Smart Factory, contributing to revolutionizing the poultry sector.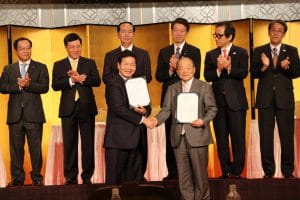 The MoU signed with Toppan Printing – Japanese global printing company – outlines the cooperation in business transformation and IT manpower training. Specifically, FPT will help the global printing company adopt Digital Transformation into their business activities and jointly establish security and BPO (Business Process Outsourcing) centres with the expected workforce of 500 employees operating in Vietnam and Southeast Asia. For several years, Toppan Printing has been FPT's prominent client in Japan.
"This is a solid step in tightening ties as well as promoting trade and investment between Vietnam and Japan". FPT Chairman Truong Gia Binh asserted. "Concurrently, FPT's cooperation with world top partners has been marked a significant development and reform in quality and model. With these newly-signed MoUs, FPT has become a valuable partner providing end-to-end solutions from project consultancy, analysis, deployment, to maintenance, serving as a Systems Integrator".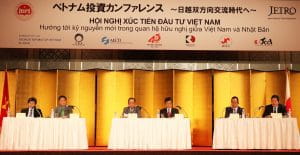 Over the recent years, FPT's capabilities and pioneering position of Digital Transformation have been proven by global success stories such as: applying the most up-to-date technologies on developing Airbus's digital services platform Skywise, implementing Internet of Things (IoT), Big Data, Artificial Intelligence and Data Science for Vietnam's Oil & Gas Industry, etc. Gaining such global accomplishments has entrusted FPT as a Vietnam ICT focal point in Digital Transformation journey.
Having established the first office in Japan since 2005, FPT has grown into the Vietnamese largest company in this world third largest economy with remarkable achievements: 6 representative offices in Tokyo, Osaka, Nagoya, Fukuoka, Okinawa and Shizuoka with 1000 employees and US$ 158 million in 2017's revenue. In the future, FPT Japan aims to become the most outstanding Southeast Asia-based Japanese company which is named as the largest SI (Systems Integrator) Tier 2 as well as top 20 largest IT companies in Japan by 2020.