In response to the fourth wave of COVID-19 in Vietnam, FPT Software has leveraged our strength in technology to minimize the impacts of the pandemic and protect the health and safety of our employees, customers, and partners.
We have maintained high awareness of potential risks, followed business continuity plan to adapt to the "new normal" and supported the COVID-19 battle in every way we can.
Highlights:
FPT Software sets target to become a "Green business" with full-vaccinated employees, COVID-proof workplace and smart application of digital technologies in protection measures.
We constantly revise our business continuity plan to promptly and properly respond to any changes in COVID-19 situation while maintaining efficiency, quality and timely support to our customers.
Ensuring "no one is left behind" in the fight against COVID-19, we issue employee care and support policy and keep extending our assistance to the businesses, community and government to minimize the pandemic impacts.
Core Principles:
1. The health of FPT Software's employees, their families, clients, and partners is our primary concern. We place this principle ahead when we make any decision during this challenging time.
2. To aim for the customer business continuity without any interruption, we try to improve the company's overall capabilities. As a Technology company, we expand access and capabilities in two high-priority categories of tech: Digital workplace resources and digital technologies to ensure our people have the systems they need to stay productive.
Further, an Emergency Response Team (ERT) was set up and directed by our Chief Executive Officer Pham Minh Tuan. This task force is responsible for (1) Risks identification, (2) Risk management including Business Continuity Plan (BCP), and (3) Preventive Care Policy. It also helps communicate the latest information and company policies regarding COVID-19 to all customers, employees, and other key stakeholders. The ERT strictly follows and acts according to the regulations of the Public Health authorities.
Key Targets:
FPT Software aims to become a "Green business" with COVID-19 safety targets including:
1. "Green workforce" with fully vaccinated people;
2. "Green workspace" with proper COVID-19 preventive measures;
3. Digital transformation and technology adoption to ensure workplace safety, employee health and business continuity.

FPT employees got their vaccine jabs in June 2021
Key Preventive Measures:
1. Facilitating vaccination for 100% of FPT Software employees: As of September 2021, 90% FPT Software employees across Vietnam have got their first COVID-19 vaccine dose while 30% has been fully vaccinated. In Ho Chi Minh City (epicenter of the fourth COVID wave), 62% have been fully vaccinated and the rest have already got their second dose scheduled.
2. Applying vaccination mandate, requiring employees to have received at least one COVID-19 vaccine shot before returning to the office after social distancing phase.
3. Requiring employees to strictly follow the Ministry of Health's 5K message: (1) Face mask; (2) Hygiene; (3) Safe distance; (4) Avoid gathering; (5) Health declaration.
4. Replacing the in-person attendance with virtual experiences such as video and call conferences to reduce business travels and public gatherings while staying connected with our clients and teams.
5. Enhancing office protocols to keep our work environment safe and healthy. Our workspaces have been regularly deep-cleaned and sanitized with visual reminders of personal hygiene best practices being displayed at multiple locations.
6. Advising employees to check themselves for symptoms of acute respiratory illness before travels and notify their supervisor and stay home if they feel sick. Require all FPT Software employees to frequently update their health status via the company mobile application myFPT.
7. As a global IT firm, we encourage our employees not to make assumptions about the possibility of infection based on race, ethnicity, national origin or disability, but rather, make it based on objective information provided by the Center for Disease Control and Prevention (CDC) and prominent public health authorities.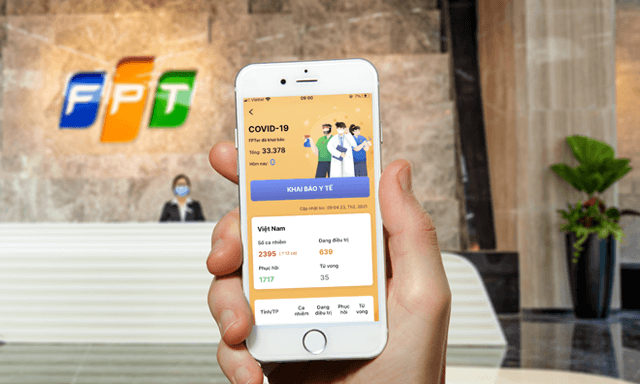 Employees can update health status and register for vaccination on MyFPT app
Heightened actions:
Considering the COVID-19 fight as a long-term battle, we have gathered lessons learned and made more stringent responses to navigate through the crisis. FPT Software has:
1. Created remote working plan based on pandemic prevention requirements and maintain efficiency and quality, ensuring no customers or projects are affected:
Built backup working area that meets safety and hygiene requirements and has adequate facilities (hardware, software/applications, network, security);
Developed plan and prepared infrastructure to support employees working from home: invested USD 16 million in Virtual Desktop Infrastructure (VDI), over USD 2 million in cloud infrastructure expansion, provided more than 8,000 new laptops for remote workers;
Provided training on work from home methods, culture and regulations, especially information security measures. Required all employees to take information security training course and test;
Implemented work management tools to ensure progress, efficiency and quality;
Digitized essential documents so that they can be accessed remotely and securely;
Built communication and contact channels for employees to ensure smooth and effective communication.
2. Developed stay-at-work plan for employees that cannot work remotely due to security or specific customer requirements:
Managed the list of stay-at-work employees and prepared backup plan;
Prepared logistics and followed medical requirements and instructions of the authorities.
3. Leveraged technology in monitoring compliance with COVID-19 preventive measures:
Installed thermal cameras at every campus to better screen and detect who may need medical check;
Required all employees to update health and vaccination status via company mobile application myFPT;
Strictly monitored gathering limit and face mask compliance through CCTV system;
Developed Sound Dr. – an AI app that facilitates respiratory disease diagnosis.
4. Ensured provide timely and effective support to customers:
Finalized and followed plan for meeting, collaborating and exchanging documents online to cope with travel restrictions;
Finalized with customers and implemented remote working plan for our employees (including bringing assets and equipment home to work remotely);
Developed regular communication plans and continuously update on project progress and results for customers;
Built "Core Teams" (with 20-30 percent of the regular teams) to support and handle customer requests around the clock.

Stay-at-work employees are supplied with accommodation, meals and other essentials
Support and care for employees:
Taking the health of employees as our priority, we have put in place the policy and actions to assist those impacted by COVID-19:
Set up a portal for our staff to update health status and get support for themselves or their family;
Provide ambulance services and medical equipment such as oxygen tanks and pulse oximeters for staff and their family members in emergency situations;
Support to the government and business community:
As part of FPT Corporation, FPT Software continues to harness digital technologies to assist other companies and the government in coping with the pandemic impacts. In August 2021, we launched new digital solutions packages that include:
FPT eCovax: a digital solution package facilitating digital working environment to help business community enhance resilience and speed up business recovery; and
eCovax Green: a digital solution package supporting the government in minimizing COVID-19 mortality, promote economic growth and stabilize social security.
Corporate social responsibility activities:
We have been providing support to the community and government in the ongoing fight against COVID-19. In response to the new pandemic wave in Vietnam, the company has:
Pledged to provide 20-year continuous education and care support to 1,000 orphans due to COVID-19;
Given 20,000 medicine packages and 1,000 pieces of medical equipment to COVID-19 patients treated at home in Ho Chi Minh City;
Provided technology equipment and facilities to several field hospitals in Da Nang and Ho Chi Minh city.
Adapting to the changes driven by COVID-19 and minimizing its impacts are key focuses of any business in this era. We encourage our employees, customers and partners to maintain a calm and rational approach towards the pandemic to respond properly to any unexpected circumstances that may happen in the future.