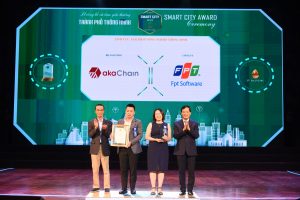 Last Tuesday, two FPT Software's solutions, akaChain and akaMES, was announced winners in Smart Solutions category of Vietnam Smart City Awards 2020, following a series of awards and recognitions they received earlier this year.
By applying blockchain to enhance the transparency, security, and business value throughout the supply chain, akaChain was named winner of Smart City Award for Smart Agriculture Solution. Meanwhile, akaMES – FPT Software's comprehensive manufacturing operation management solution, won the Award for Smart Manufacturing Solution for helping factories streamline their manufacturing processes and facilitate the interaction between human and machines.
Vietnam Smart City Awards program is organized by Vietnam Software and IT Services Association (VINASA) in 2020. It is set to be an annual award program to honor the businesses and organizations that have made contributions to the urban smartization process, thereby strongly promote the development of smart cities in Vietnam. The award aims to create a driving force for the innovations in technology as well as mechanisms and policies to improve the value, prosperity and competitive edge of Vietnamese cities, and at the same time contribute to accelerating the national digital transformation program.
This year, akaChain and akaMES were among 131 nominations competing for Smart City Awards in four categories including Smart Cities, Smart Real Estate Projects, Smart Industrial Parks, and Smart Solutions. Of these, 54 nominations were selected as winners by the judges of highly qualified experts from the Ministry of Information and Communications, the Ministry of Science and Technology, the Ministry of Construction, and leading experts across many sectors including transportations, technology, telecommunication, architecture, education, and so on.
The winning solutions of FPT Software, akaChain and akaMES, are part of its product suite designed to provide companies with readily customizable and easy-to-implement digital tools to kick start and amplify digital transformation process.
So far in 2020, the two products have received notable international recognition. This duo has won APAC Stevie Awards and International Business Awards – two international award programs recognizing the excellence and innovation that add values to businesses.