Last week, two of FPT Software's digital solutions, akaMES and akaAT, were honored at Sao Khue Awards, Vietnam's biggest award program for the IT industry. This year, FPT Sofware is the only company with two nominations receiving the title of Top 10 Sao Khue Awards winners – the highest recognition of the competition.
akaAT, FPT Software's multi-platform automation testing tool, was named among Best New Products and Solutions. akaAT supports projects and companies in improving the quality and speed of the testing process, thereby boosting productivity, reducing cost, and shortening time to market.
Also designed to help businesses optimize their operations, akaMES is a digital manufacturing platform allowing factories to streamline their processes and facilitate the interaction between human and machines. akaMES was recognized in the Best Digital Transformation Platforms category. This is a newly-introduced category to honor technology companies that are focusing on digital transformation solution development in a bid to form a digital ecosystem for Vietnam.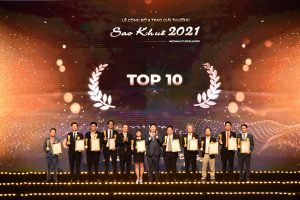 Top 10 Sao Khue Award winners at the ceremony taking place on April 24, 2021
akaMES and akaAT were among 180 winners of the 2021 Sao Khue Awards. These winners were cherry-picked from 300 nominations of 161 companies. This has been the highest number of nominations recorded since the program's first launch in 2003, reflecting the robust development of Vietnam's IT companies. To be eligible for Sao Khue Awards, nominees must meet stringent criteria including innovation, technical capabilities, market share, impacts on social economy, customer satisfaction, and so on.
As the country's leading ICT firm, FPT Software has been a frequent winner of this renowned award program hosted by Vietnam Software and IT Services Association (VINASA). Last year, the company's winning nomination was akaBot, a comprehensive RPA platform that enables companies to increase productivity and reduce labor costs by streamlining and automating business processes.