FPT Software successfully hosted its first virtual Global Sales Conference on June 8 and 9, 2021. Themed "Seize the opportunities of new normal", the event recorded nearly 30,000 views from sales and marketing officers, managers, senior leaders from FPT Software and FPT Corporation, and experts from world's leading enterprises such as Airbus, Sitecore, OutSystems, HFS Research, and so on.
First launched in 2016, Global Sales Conference is the largest annual event dedicated to FPT Software's sales force around the world. Going on for two days, this year's Global Sales Conference offered a comprehensive experience on a virtual platform. Conference attendees had the opportunity to discover 21 digital products of FPT Software in the exhibition hall, gain access to the latest resources, explore the company's campuses in Hanoi, and expand their network through a networking lounge.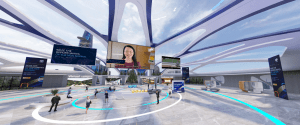 FPT Software's Global Sales Conference took place virtually on June 8 and 9, 2021.
The event's highlight is the seminar sessions where attendees could get updated about the company's progress and gain insights into how to rework their sales game in the new normal.
Kicking off the conference, FPT Chairman Truong Gia Binh addressed nearly 700 participants with a question, "What makes customers want to work with you?". The attendees responded to his question through EduNext – FPT Software's social constructive learning platform, which allowed the answers to be shown and voted real-time. Dr. Binh emphasized the need for salespeople to build their personal brand and constantly update their knowledge to attract more customers. He then announced the winners whose answers were closest to his ideas.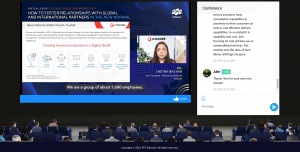 Expert sharing sessions are the highlight of Global Sales Conference 2021
In other sessions, SOAR Training's Affiliate/Master Trainer Paul Madott, Alpine Ventures' Partner & Director Aaron Everhart, FPT's Chief Digital Transformation Advisor Phuong Tram and Sitecore's Vice President Chetna Bastani elaborated on the aspects that salespeople should work on to establish and foster the relationship with business leaders, international partners and become FPT Software's ambassadors. Former Airbus CDO Marc Fontaine, HFS' Senior Vice President Tom Reuner, and OutSystems' Chief Customer Officer Carlos Alves shared their perspectives on new opportunities for businesses in the new normal and how to capture them by leveraging modern technologies. In between the expert talks were updates on FPT Software's key programs and introductions about the company's latest products. The attendees could have a complete understanding of FPT Software's capabilities and its development strategies to become a world-class digital transformation and IT services provider.
The virtual conference reflects FPT Software's efforts to keep its employees motivated and connected despite the ongoing COVID-19 pandemic. According to FPT Software's Chairwoman Chu Thi Thanh Ha, the company's sales force across different countries must collaborate closely to turn threats into opportunities amid the new normal.
"There will be more difficulties ahead. Staying connected is how we get through them", said Ha. "The spirit of One Team is our oxygen."