FPT Software reinforced its pioneering position among technology and IT services providers by attaining triple laurels at the ceremony of Vietnam's Top 10 ICT Companies 2020 Awards earlier this week. Beside FPT Software, FPT Corporation and four other member companies also land on this year's list.
Vietnam's Top 10 ICT Companies 2020 is the annual award program organized by Vietnam Software and IT Services Association (VINASA) within the framework of Vietnam DX Day to honor the best performing technology and IT services companies in the country. This year, 100 nominees were selected and sorted into 15 categories by a judging committee comprising of more than 40 experts from the government and leading enterprises. They had to go through three rigorous evaluation round, including application screening, presentation and direct verification. The whole process lasted for more than four weeks.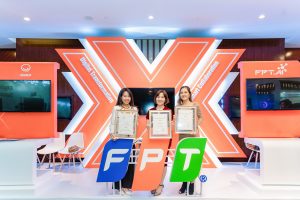 FPT Software's representatives received certificates for 2020 Top 10 ICT Companies Vietnam awards on November 14, 2020
FPT Software appeared in three top-10 lists for IT Service and Solution Providers, Software Exporters and Business Process Outsourcing (BPO) Providers. FPT Corporation and other sister companies of FPT Software were also named in other nine award categories, including Digital Content and Digital Marketing (FPT Online); Digital infrastructure (FPT Telecom); E-Government, Security – Information Safety and Smart City (FPT IS); IT training (FPT University); Digital Transformation Platform and Digital Transformation Services & Solutions (FPT Corporation).
Within the framework of the event, two FPT Software's award-winning platforms, akaChain and akaBot, were also introduced as part of FPT Corporation's digital transformation solution ecosystem that has gained reputation in the technology community and added great business values to corporate customers around the world.
According to FPT Chairman Truong Gia Binh, digital transformation is vital to the prosperity of Vietnam amid the COVID-19 pandemic and the acceleration of Industry 4.0. "Top 10 Vietnam ITC Companies 2020 assembles a force of prestigious and competent digital technology enterprises that will lead the digital transformation journey of the country", he said.