FPT Software was recently awarded the title of "Top 10 Sao Khue Awards 2018" by Vietnam Software Association (VINASA), firmly recognizing the FPT's effort and commitment to Digital Transformation under the scenario of Industry 4.0.
"Top 10 Sao Khue Awards" is evaluated based on criteria on market size, technology, prominence, socialization, applicability, etc. Having been inaugurated since 2003, "Sao Khue Awards" is the most renowned title for organizations and companies whom have made great contribution to the development of Vietnam's Software and Information Technology industries.
FPT Software offers Digital Transformation services with novel technologies including Social, Mobility, Cloud, Big Data, IoT, AR/VR, Robotics and AI. Since 2016, the company has provided consultancy and solutions regarding Digital Transformation to global customers, 217 of which are Top Fortune 500 across a wide range of industries from aviation, healthcare, to finance. With FPT Software's solutions, customers have experienced profoundly positive changes in their business efficiency, profitability and growth.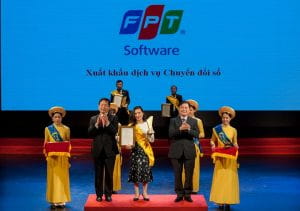 "I take pride in FPT's accomplishments in pioneering Digital Transformation in Vietnam". Said Mrs. Nguyen Dan Phuong, CMO of FPT Software. "FPT has advantages in the possibility of reaching out and approaching massive information on a global scale as well as cooperating with big partners leading the way in digital transformation journey. I do hope that FPT Software is a good example for other companies in Vietnam to follow and further develop in order to mark Vietnam on such global journey".
FPT Software, as the number 1 IT Company in Vietnam, plays a part in affirming strongly Vietnam's status and capability in global tech market. Additionally, FPT Software contributes to not only national business prosperity (the revenue in 2017 reaches nearly US$ 300 million, one fifth of which is from Digital Transformation) but also socio-economic benefits (creating job opportunities for over 13.000 individuals and facilitating Vietnamese youth to approach world latest technologies).
FPT Software has continuously been honoured at the highest "Sao Khue Awards" titles for almost 10 years. In 2014, the company received the five-star title for eMobiz – sales management system for hand-held devices – which has been employed by many FMCGs and other multinationals.
.