On August 26, FPT Software activated Level 3 scenario for staff working at its headquarter Cau Giay building in Hanoi, after a former employee was tested positive for COVID-19 for the first time.
Accordingly, the minimum work-from-home (WFH) ratio has been raised from 30 percent to 50 percent of employees. Those remaining work at the head office is required to keep a safe distance of at least 1.5 meters and not allowed to participate in any gatherings of more than 20 people.
Upon the deployment of the new scenario, nearly 75 percent of employees of the site started working remotely on August 26.
The FPT Software's former employee was diagnosed with COVID-19 on August 21. Previously working at FPT Software Hanoi branch (Cau Giay Building, 7th floor), he resigned from the company on August 13 and boarded a flight to Korea on the night of August 20. He was put in quarantine at Seoul National University Hospital, not yet showing symptoms of COVID-19 respiratory infection such as coughing, fever, chest pain, and shortness of breath. He received a negative result on re-testing on August 28 and was discharged from hospital today with stable health conditions. All 44 close contacts of this case were also tested negative.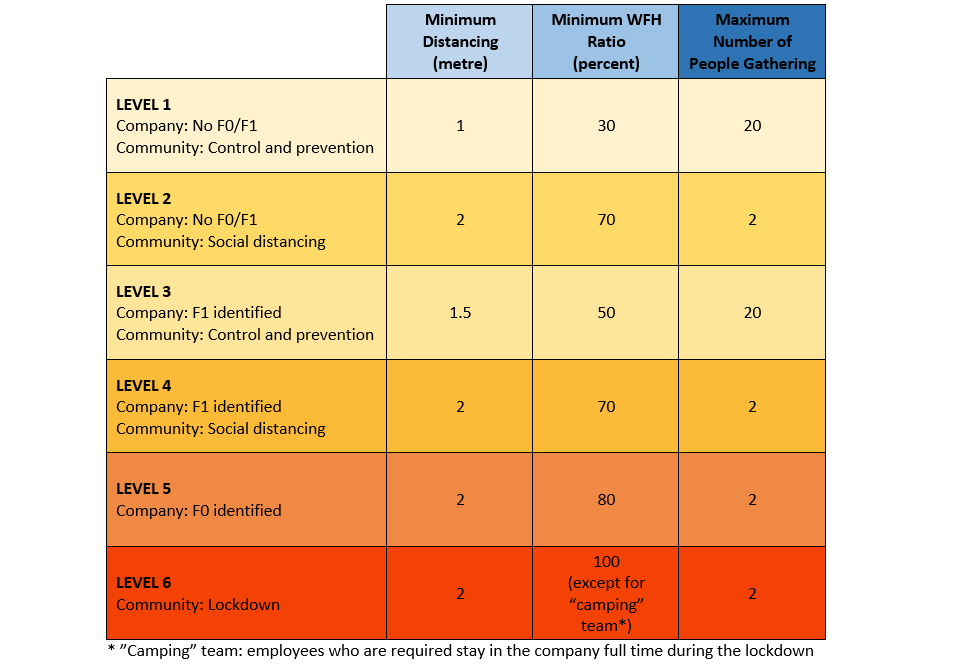 FPT Software's six-level business continuity plan
The current scenario is at Level 3 in FPT Software's six-level business continuity plan in response to the COVID-19 pandemic. The plan was built based on the level of infection in the community and the company, regulating specific indicators including minimum distancing, minimum WFH ratio, and a maximum number of people gathering.
Since the beginning of COVID-19, FPT Software has taken prompt measures to ensure the health and safety of its employees while maintaining business continuity. Chairwoman Chu Thanh Ha pledged to fight COVID-19 with a people-first approach, emphasizing unity, compassion, and creativity when it comes to working in this challenging time. The company has also revised its remote working plan based on changing situations to ensure people's wellbeing and productivity.