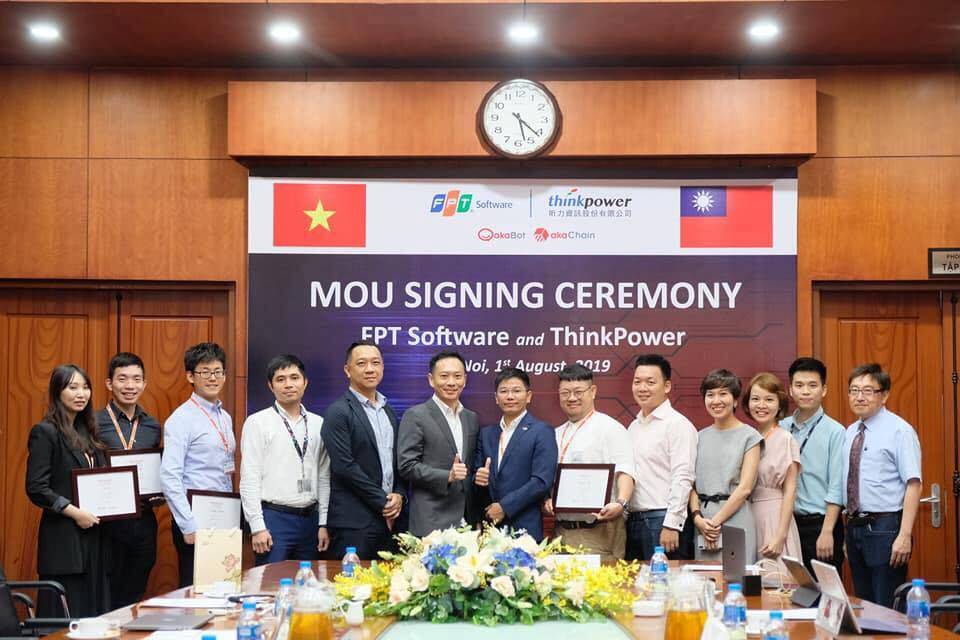 FPT Software has entered in an agreement with Taiwanese system intergrated solution provider ThinkPower to distribute akaBot and akaChain in Taiwan. The deal also marks the company's first time having an overseas agent.
At the early stage, ThinkPower will focus on distributing and implementing FPT Software's akaBot and akaChain for financial companies in Taiwan. According to the agreement, the two sides will consider the possibilities of expanding the sales and services implementation network onto other sectors.
akaBot is a comprehensive RPA solution designed to help automate repetitive business processes such as data entry, order filing, access rights and permission granting, etc. The solution has been deployed for FPT Software's customers in Japan, the UK, Korea, as well as piloted at some Vietnamese banks.
akaChain, meanwhile, is a platform that uses blockchain technology and smart contracts to offer businesses scalable, secure and customizable solutions in areas such as CRM (customer relationship management), asset traceability, and KYC (know-your-customer). FPT Software's akaChain has been deployed in a number of sectors from finance, insurance, retail, to supply chain management. Most recently, it has been utilized to develop the loyalty customer relationship system for a Taiwanese finance giant.
According to the director of Fpt Software Digital Processing Services firm (DPS) Do Van Khac, "the applications of RPA technology has gained ground recently, helping eliminate repetitive tasks in finance, banking and insurance sectors. The partnership with ThinkPower would enable FPT Software to expand our customer base for akaBot and akaChain in Taiwan".
ThinkPower CEO and Founder Ben Yao applauded FPT Software's technology capabilities and expected the two parties would soon become strategic partners in digital transformation.
ThinkPower is a trusted system integrated solution provider in the Taiwanese finance sector. Among 39 banks and more than 30 insurance companies in Taiwan, 70 per cent are currently their clients.
Aspiring to become a world-class comprehensive digital transformation services provider, FPT Software has actively developed solutions based on advanced technologies such as artificial intelligence, analytics of Big Data, Robotic Process Automation (RPA), blockchain, etc, helping businesses worldwide to speed up their digital transformation journey, improve efficiency, create new business models as well as enhance customer experience. akaBot and akaChain are two out of several digital transformation solutions that the company has deployed.