Last Friday FPT Software inaugurated a new branch in Vietnam's central city Tam Ky, its sixth in the country, nearly two months after Vietnam relaxed nationwide social distancing.
Located at the heart of the central coastal city, the new branch's office is expected to accomodate nearly 200 software engineers and equipped with high-tech facilities that meet foreign customers' strict demands.
In 2020, FPT Software's Tam Ky branch will focus on providing digital processing services offshore for Japanese customers, ranging from data processing, digital design solutions, managed services, to automated call centers.
According to FPT Software's Chief Delivery Officer and FPT DPS's Chairman Do Van Khac, digital processing services will be a new growth engine. "COVID-19 has seen an increasing demand for 24/7 outsourced operations with high quality and cost effectiveness. We need to tap into this great potential", he said.
"Tam Ky is not only a strategic location, home of several foreign-invested factories and export processing zones, but also has skilled and hungry local IT talents. In the next three years, FPT Software hopes to build this coastal city one of our five major digital processing services centers", he noted.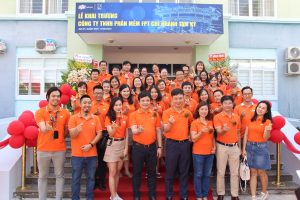 FPT Software's managers and staff in the inauguration ceremony of Tam Ky branch
The branch's opening also attributes to the company's desire to build technology-education complexes across Vietnam, featuring smart cities, universities, research and training centers, Khac said.
FPT Software's local expansion took place as Vietnam's economy has gradually opened and businesses resuming their operations post COVID-19. Addressing a recent webinar, FPT Chairman Truong Gia Binh noted that the crisis might have been a great opportunity for businesses to rethink their operations and business strategy, suggesting Vietnam as the next destination to go for IT outsourcing services including digital processing services, software development, managed services, etc.
Binh reaffirmed the country's advantages such as a dynamic ICT workforce of more than 900,000 people, supportive Government's policies, and a favourable business environment.
"If you look for outsourcing, only a few countries stand there: India, China and now Vietnam." Given the success against COVID-19, Vietnam has surged as a safe and promising location for investors to expand their network and set up offshore teams".