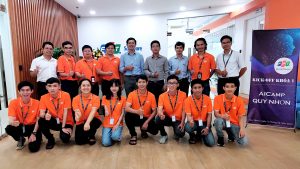 AICamp trainees and mentors at the kick-off event on June 16, 2020
Last Tuesday, FPT Software welcomed the first batch of students to its fresher program specialized in Artificial Intelligence (AI) – AICamp.
Launched in Vietnam's south-central city of Quy Nhon, AICamp is part of the company's plan to expand the AI talent pipeline and make advanced technologies accessible for local students. In 2020, FPT Software looks to select 20 high-performing students who have achieved academic success in Maths, Science and Technology subjects into the program. Half of them get onboard this June.
Over the next four to five months, trainees will have the opportunity to learn the fundamentals of AI, data modeling, coding, project management, and essential skills to start an AI career in the future. They also get to learn from FPT Software's Data and AI experts through in-class training, workshops, as well as hands-on projects with the company.
To make AICamp more appealing, the company even pledged to help trainees achieve at least one AI/Data certification from Google, Amazon, or IBM upon completion of the program.
Vu Van Dong, Director of FPT Software Quy Nhon, sets high expectations for AICamp. "It is one of the important projects that will help us to foster the next-generation AI engineers and build a world-class AI center in Quy Nhon. Soon we will be able to provide a comprehensive portfolio of Data/AI related services and products for customers worldwide".
Earlier this month, FPT started a strategic partnership with Mila – the world's largest research institute in deep learning in a bid to deliver many more real-world AI applications such as those in natural language processing, smart factory, healthcare, agriculture, and so on. The partnership also opens up opportunities for FPT and its company affiliates to enhance AI capabilities and build a skilled digital workforce.
"This agreement also helps fulfill our aspiration for universal access to technologies, particularly AI core technologies. Not only tech enthusiasts in developed countries but also young, talented Vietnamese have the opportunity to exchange knowledge and research about AI", said FPT Chairman Truong Gia Binh.