FPT Software recently celebrated the 15th birthday of its Da Nang branch in style with an online drinking party that gathered more than 3,000 participants, making it the most attended virtual event in Vietnam.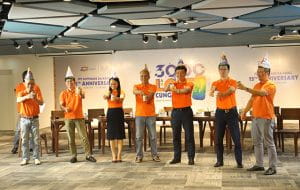 FPT Software's senior leaders raise a toast for Da Nang
Themed "3,000…Cans Together", the birthday celebration took place amid the new wave of COVID-19, in which Da Nang is the new epicenter. The company's IT infrastructure was readily available to deliver the 90-minute event with thousands of access locations recorded at the same time.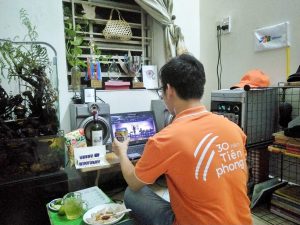 FPT Software Da Nang's employee joins the online drinking party at home
Among the participants are FPT Software's current and former senior executives, as well as heads of FPT's global branches in the US, Singapore, France, Japan and so on.
"Fifteen years ago", said former Chairman Nguyen Thanh Nam, "the extension of our footprint to Da Nang was a bold move". However, "we had the right people at the right time", as well as a significant support from the local government, he added.
Leading the company through a prolonged pandemic, FPT Software Chairwoman Chu Thanh Ha also betted on the people. "Da Nang employees share enthusiasm, solidarity and resilience. I do believe these qualities will help us overcome this unprecedented challenge to conquer new milestones and new customers".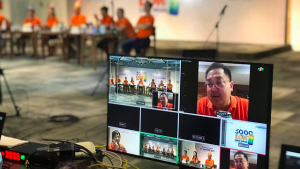 The event welcomes FPT Software's managers and employees across the globe
The event continues a streak of FPT Software's virtual activities to maintain business continuity as well as employee engagement in the new normal. Since the start of COVID-19 outbreak, the company has hosted dozens of online events, from annual general shareholders' meeting to a series of webinars focusing on post-pandemic business recovery.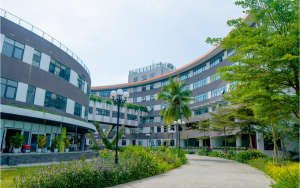 FPT Complex – headquarter of FPT Software Da Nang
Located in Central Vietnam, FPT Software Da Nang is one of the oldest and largest branches of the IT company. Founded in 2005, it has grown from a modest office of 85 people to 3,000, recording an annual growth rate of 50-60 percent in the past three years. Multiple million-dollar projects have been deployed here, with a focus on cloud and artificial intelligence technologies.