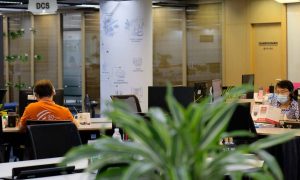 As COVID-19 resurfaced in Vietnam, FPT Software has announced a new policy that enables employees to work from home from August 3, 2020. The policy applies to FPT Software's branches across the country.
Accordingly, 70 percent of FPT Software's back-office employees were sent home to work. Employees from other functions are encouraged to work remotely in line with the specific plan of each unit. With over 16,000 employees accounting for the highest number of staff in FPT Corporation, over 42 percent of FPT Software's employees are working remotely as of August 5. The company's branch in Da Nang, the epicenter in the latest wave of COVID-19, has recorded 66 percent of employees working from home.
Work-from-home employees receive supports in technology and equipment to ensure the working efficiency. Virtual Desktop Infrastructure (VDI) was tested and deployed to free up concerns of the staff about network interruption. They can also register for PCs in case of need. Meanwhile, strict preventive measures are applied to employees who show up at the workplace. They must keep distance by sitting at least two desks apart, avoid sitting opposite to each other or have their working shifts scheduled.
The work-from-home policy is among FPT's latest series of actions to safeguard the health of its people amid the third wave of COVID-19 in Vietnam. The country recorded first deaths after months of successfully containing the virus. The battle against Coronavirus has continued, and FPT is once again ready for any scenario.
Since the beginning of COVID-19 outbreak, FPT has taken several actions to stay resilient in the pandemic. In February, the company collaborated with Vietnam's Ministry of Health to launch a 24/7 virtual chatbot that could handle 5,000 COVID-19 inquiries per day. FPT has also helped businesses worldwide alleviate the pandemic impacts by becoming their critical partner in this challenging time. In April, the company was recognized by Forbes for its efforts in combating COVID-19 along sides big names such as DBS Bank, Envision Group, Hyundai Motor's Chairman Chung Mong-koo, Alibaba co-founder Jack Ma, and so on.