From 2019, FPT Digital Processing Service Company Limited (FPT DPS) is officially established as a subsidiary of FPT Software. DPS aims to deliver comprehensive services to support customers focus resources on core business development and saving effort in the process of Digital Transformation.
The founding members of DPS include Mr. Do Van Khac, Chief Executive Officer of DPS, who is also the Chief Delivery Officer of FPT Japan; Mr. Nguyen Tuan Phuong, Vice President; Mr. Ngo Pham Cong Thuan – The Top 13 Under 35 of FPT 2018 – & Ms. Nguyen Thi My Chi, Sales Vice President and Ms. Nguyen Thi Thanh Ha, Vice President of HR.
DPS's service includes: data processing service, digital design solution, AI/ Data Science Service, Shared service and Call Center and Managed Service. DPS, as an independent company, provides specialized data services to support clients and also FPT Software. The ability to provide data processing for Digital Transformation and to provide stable, high-quality managed service is one of the factors helping FPT transform into an end-to-end Digital Transformation service providing company.
The experts of DPS have experience of working in business processing outsourcing (BPO) all over Vietnam and Asia since 2007. They liberated more than 50 clients in the regions from manual errors and physical management of business processes.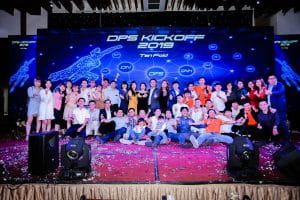 DPS is original known as Business Processing Solution (BPS), founded in 2016 to implement Business Process Outsourcing for FPT Software. Started with only 20-30 members in 2016, BPS grew up to over 1,000 people in 2018 with over 100 per cent in revenue with high profit. In 2019, BPS changed its name to DPS, offered additional services towards the Digital Transformation strategy. The firm now has set further challenges to keep expanding the BPO market with thousands employees objective in 2025. With the determination of reaching the high growth rate of 100 per cent, founding additionally new branches in Can Tho, Quang Nam, Ha Tinh, etc., DPS is expected to become the Vietnam's leading BPO company in partnership with various valuable customers.
With more than 8 years of experience and the experience serving more than 50 clients in Vietnam and ASEAN region, DPS is believed to become a reliable partner providing auxiliary services for customers, helping the clients to focus on his professional operations and speeding up the Digital Transformation process.