FPT Software has recently developed an AI-powered Melasma Diagnosis Model that helps to facilitate the treatment for Melasma, one of the most common skin disorders in Vietnam.
Initiated in February 2020, the model was developed within only two months in collaboration with Vietnam's Quy Hoa National Leprosy Dermatology Hospital.
Melasma is a common skin disorder that results in symmetrical, blotchy, brownish pigmentation on the sun-exposed area and particularly the face. According to a report published on Vietnam Journal of Preventive Medicine, melasma affects nearly 30 percent of female survey participants. Its complex causes and development mechanism lead to several difficulties in diagnosis and treatment.
The diagnosis model collects information about the clinical characteristics of melasma patients at Quy Hoa hospital. Then the algorithm will analyze data to determine melasma risk factors, thereby helping facilitate the melasma treatment process.
Preliminary diagnosis results, including the analysis of cosmetics use as a trigger for melasma, have received positive feedback from the hospital's medical professionals.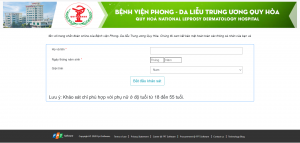 Website by FPT Software provides users with melasma diagnosis
According to the project team, FPT Software still constantly updates the model's database to improve the accuracy of diagnosis results. A website has been launched to invite visitors, through an online questionnaire, to share their medical history, skincare behaviors, and general knowledge about melasma.
Besides melasma, Quy Hoa hospital plans to continue the collaboration with FPT Software to apply AI to the diagnosis processes of other skin disorders including eczema, contact dermatitis, etc.
In June 2020, FPT became the first tech corporation in South East Asia to partner with AI research institute Mila to deliver more real-world AI applications such as those in natural language processing, smart factory, healthcare, agriculture, and so on. The partnership is expected to help FPT Software improve its AI-based products and solutions such as the above-mentioned melasma diagnosis model as well as constantly enhance its technological capabilities in the future.