FPT Software Chairwoman Chu Thi Thanh Ha shared her take on the impacts of the pandemic on working women and the role of female leaders in disruptive times.
A Hard-Fought Battle
In tandem with the progress of gender equality in the world, technology has seen an advancement in the participation of women. As a woman leader in IT, Ms. Ha also noticed this change. "Many women around me are doing excellent work in the IT field. Maybe the gender divide in IT has been eased".
With that being said, IT has never been a bed of roses for women. Sharing her own experience, Ms. Ha revealed that her average working day during the past two years has been 14 to 15 hours. "Sometimes I have worked for 40 hours non-stop".
The COVID-19 pandemic in the past two years has ripple effect on female workers. Many women had to take a step back in their careers to take care of their families during the lockdown phase. The others also had to deal with challenges driven by the changing work arrangements. Since the pandemic outbreak, people have had to switch to remote working and communications have mostly been conducted online. For an IT service provider with a global presence like FPT Software, this also means working across time zones to support overseas colleagues and customers.
"At FPT Software and other IT outsourcing service providers, both business leaders and employees expect to work round the clock to meet with customers' requirements. Vietnamese and Asian women working in this field are facing the same challenge, especially during the work from home phase", she noted. "It is hard but we have to sort things out and try to adapt, there's no other way."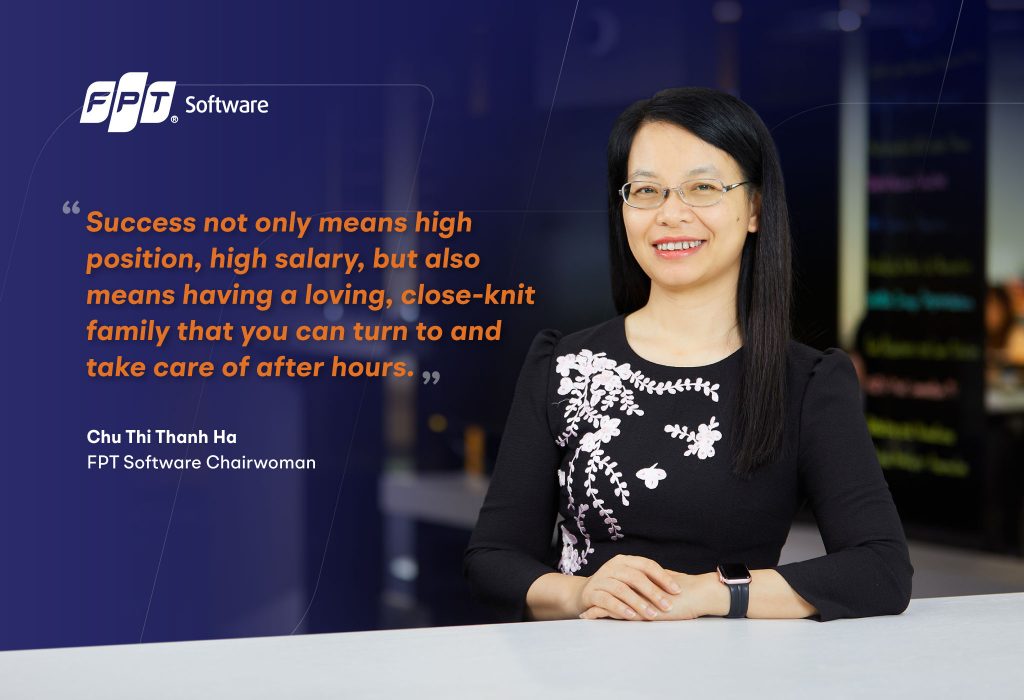 Sharing in a previous interview that "our people are our most valuable asset", Ms. Ha once again emphasized the company's efforts in keeping their employees safe and healthy in the most difficult times. Some notable efforts include extending vaccination to all employees and their families and applying a hybrid working model where people can choose to work from home or in office flexibly. The new working model greatly aids the company's female employees in improving work-life balance and taking care of their families.
"At FPT Software, our female employees can rest assured that we understand their family caregiving role and we will support them the best we can."
"Success not only means high position, high salary, but also means having a loving, close-knit family that you can turn to and take care of after hours."
The policies to improve employee wellbeing have encouraged FPT Software people across locations and markets to work as one team to overcome the pandemic challenges. "Those efforts have brought us to success in delivering many projects, won us positive feedback from customers and opened up more growth opportunities for our company. That's something to be proud of", said Ms. Ha.
Last year, FPT Software achieved 23% growth and surpassed the 500 million USD revenue milestone. While lots of firms had to lay off their personnel and shrink their size, FPT Software managed to establish more development centers and offices, and even expand the workforce. The company now has more than 22,500 employees. "I believe that we can achieve more and move faster forward", she said.
A Women-Led Transformation
Despite the difficulties of the pandemic, Ms. Ha is still confident in the determination and capabilities of women in the technology field. On the recent business trips to the US and LATAM region, she noticed a new role that many senior women had been taking on, which is creating sustainable growth for their businesses. This includes environmental protection, reducing CO2 and green manufacturing processes.
One of the keys to achieving sustainability is through digital transformation. FPT Software has applied digital transformation and automated management to its own business processes. This has reinforced its credibility and been highly praised by its customers.
Those achievements, according to Ms. Ha, could not be made without huge contribution from FPT Software's female leaders and employees, who have worked really hard to coordinate a vaccination campaign, manage onsite working and support employees' families during the pandemic.
Perhaps it is the difficult times that shine the spotlight on the capabilities of women. "One of our big customers in automotive revealed that they chose to work with FPT Software partly because our company has a Chairwoman. They explained that women leaders are better at risk management, which is extremely important during the global crisis," said Ms. Ha.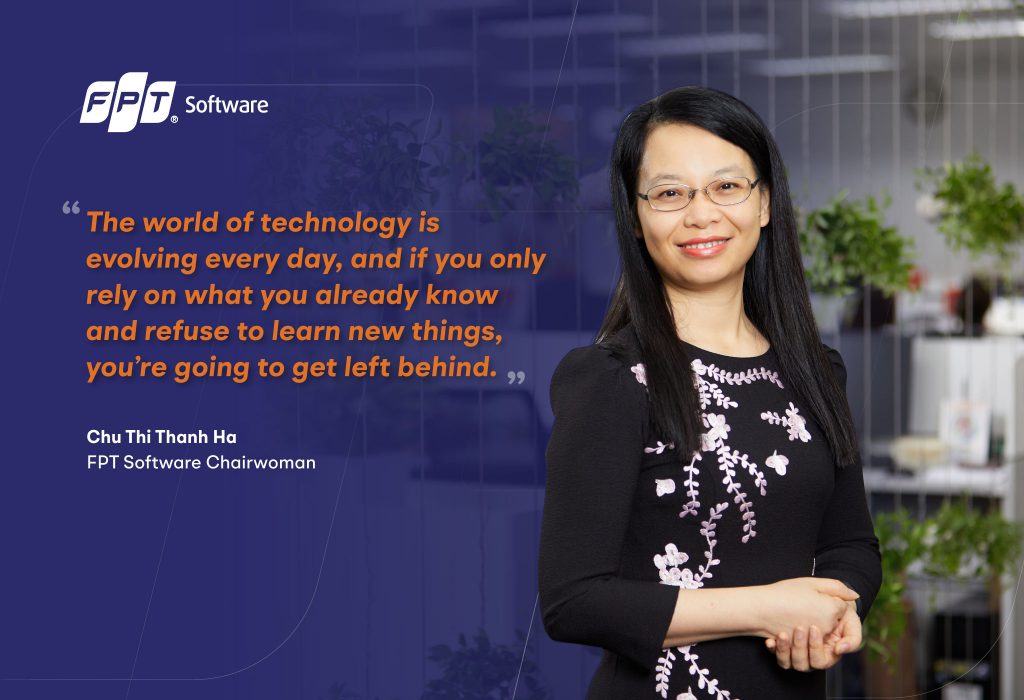 Leading a global IT services company, Ms. Ha pointed out that it was FPT Software's spirit from day one to provide customers with the most innovative digital solutions. To do that, renewing knowledge for the job becomes compulsory. "Our people, especially female leaders like me, are required to continue learning to keep up with the most innovative technologies". She shared that "being a life-long learner plays a critical role in where I stand today."
"The world of technology is evolving every day, and if you only rely on what you already know and refuse to learn new things, you're going to get left behind."
Besides encouraging learning, FPT Software also has a leadership rotation programme, in which senior leaders of member companies are appointed different managerial positions in other companies within FPT Corporation to gain diverse experiences and improve capabilities. This programme helps senior women take on challenges in their new positions and gain more experience.
"Today, there are more opportunities for women to prove their abilities in becoming great leaders," she said. "But they might need inspiration and encouragement from others. That's why I take every chance to participate in inspiring activities and to share my experience and perspectives as a female leader with other women."
"The key to success here is to know where your strengths are, to focus on and nurture them to perform better at work", she noted.