Ms. Chu Thi Thanh Ha, FPT Software Chairwoman recently shared her thoughts and experience as a female leader in a male-dominated field in a forum named "Inspiring female entrepreneurs in the digital economy". The event was organized by the Vietnam Women's Union on the occasion of Vietnamese Entrepreneurs' Day and the Vietnamese Women's Day to honor businesswomen who had overcome early-day difficulties to achieve success in their career.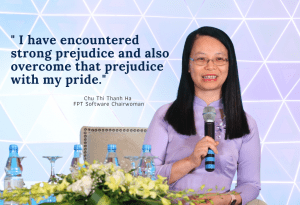 "Much like the famous movie 'Pride and Prejudice', I believe that during my career at FPT, I have encountered strong prejudice and also overcome that prejudice with my pride," FPT Software's Chairwoman opened her speech.
She recalled a hard time at the start of her career when she chose IT over other "common" occupations for women, such as teaching or marketing. "It seemed like a choice against the majority, considering FPT is more suitable for men than women because IT works seem to be burdensome and challenging. At that time, with a very humble start, I set a goal for myself to overcome the prejudices of society and my family, to venture into a difficult but attractive field like IT. Perhaps I saw in FPT the image of a next-gen organization where talents are appreciated, and superiors and colleagues will act as teachers to help you grow no matter who you are or what gender you are."
"After joining FPT, I toiled away not minding if the work is tough or easy. In the early days, I was not afraid to knock on every door to market computers and IT equipment. I even went under the desk to install computers for customers, anxiously waiting for the Internet connection signal to the computer," she said.
"Countless difficulties bundled up for me as I led a self-reliant telecom enterprise. There was much work to do, from distributing Internet services widely to Vietnamese people, establishing network infrastructure, expanding telecommunications infrastructure, to facing regulatory and legal barriers, improving service delivery networks, etc. Step by step, I persist with enthusiasm, dedication, and willpower to develop FPT Telecom as it is today", she said.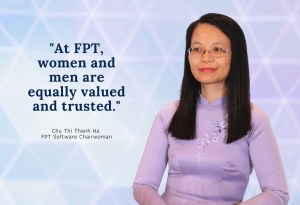 Against the prejudice that women should have steady and safe jobs, after 23 years of working, she is once again "ready to change and accept new challenges to take up the position of Chairwoman of FPT Software."
"While balancing work and family, I have to adapt to ad-hoc meetings regardless of day or night", she said. However, the Chairwoman is still full of passion and enthusiasm, which motivate her at work every day to lead FPT Software through the COVID-19 crisis as a businesses' trusted partner. "I want to show our customers that although I am only a small woman, I am capable of accompanying them through the difficult time."
"For over 23 years, even when there was a meeting at 2 am the night before, I wake up every morning full of enthusiasm and joy at doing my favorite job. I do not think much about separating clearly between men's and women's works because perhaps at FPT, women and men are equally valued and trusted," she said. "That is also the credo I follow when steering FPT Telecom and now FPT Software."